No matter how many times I've heard it, I never get tired of reading the Christmas story.
And, not sure what your feelings are but, I love the King James Version of this Bible passage from Luke 2.
Other Bible versions tell the same story but the King James Bible tells it in a more poetic language.
So first, as a special treat let's listen to Linus from "A Charlie Brown Christmas" recite the story of the coming of Christ..
An Angel comes to the Shepherds – The Christmas Story
"And there were in the same country shepherds abiding in the field, keeping watch over their flock by night.
And, lo, the angel of the Lord came upon them, and the glory of the Lord shone round about them: and they were sore afraid.
And the angel said unto them, Fear not: for, behold, I bring you good tidings of great joy, which shall be to all people.
For unto you is born this day in the city of David a Saviour, which is Christ the Lord.
And this shall be a sign unto you; Ye shall find the babe wrapped in swaddling clothes, lying in a manger.
And suddenly there was with the angel a multitude of the heavenly host praising God, and saying,
Glory to God in the highest, and on earth peace, good will toward men.
And it came to pass, as the angels were gone away from them into heaven, the shepherds said one to another, Let us now go even unto Bethlehem, and see this thing which is come to pass, which the Lord hath made known unto us.
And they came with haste, and found Mary, and Joseph, and the babe lying in a manger.
And when they had seen it, they made known abroad the saying which was told them concerning this child.
And all they that heard it wondered at those things which were told them by the shepherds.
But Mary kept all these things, and pondered them in her heart.
And the shepherds returned, glorifying and praising God for all the things that they had heard and seen, as it was told unto them." – Luke 2:8-20 (KJV)
What is the Christmas Story All About?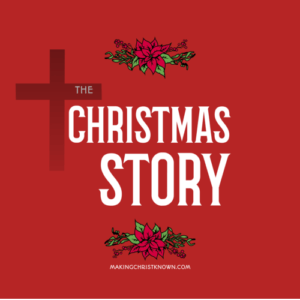 First and foremost, the Christmas story is about the birth of Jesus but it is also a story of God's great love He has for us.
He sent His only Son to die so that we might be saved from eternal death.
The good news about Christ is that He comes to all, including the plain and the ordinary.
Even a person like me can receive the same love of Jesus as the richest people on earth.
And, He comes to anyone with a heart humble enough to accept Him.
Whoever you are, whatever you do; you can have Jesus in your life.
Finally, you need no extraordinary qualifications — Jesus accepts you as you are.
Believe in the Christmas story and the love of God.
He will never stop loving you!
The Guide — The Spirit of Christ
And, once you have Christ in your heart He will guide you in your everyday decisions.
You can count on Him whenever the need arises. Or, you can just talk to Christ anytime you want answers to a difficult choice you have to make.
Drink in the Christmas story and reflect on its meaning.
You'll find Christ there but you will also find God.
Love in Christ & Merry Christmas!
– Bob
Find how to receive the love and life-changing experience of Jesus Christ, please take a moment to Read John 3:16 for more information.
Original video here.