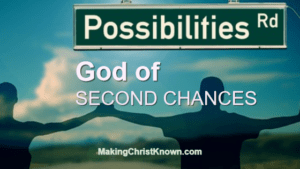 "God is the God of second chances." ~ Pastor Warren
At times, we all need to start anew, don't we?
In this intriguing video, Pastor Rick Warren shares what to do when you need a fresh start.
Now, this Bible lesson seems to be geared toward New Year.
But, we can start a "new year" anytime with God's direction and focus on Him.
No matter if you are a Christian or just in a bad way today — Watch this video and let God help.
Pastor Rick Warren Video – When You Need a Fresh Start
From the video:
Do you ever feel like you need a fresh start?
The good news is, God specializes in…
special chances,
fresh starts,
and new beginnings.
In this message, Pastor Rick Warren describes God's five-step process for giving you a fresh S.T.A.R.T. —
The Attitude for Start:
Stop making excuses for not starting.
Take stock of what I have.
Act in faith.
Refocus my mind.
Trust that God knows what He's doing.
From Making Christ Known:
Let Christ In …
If you have never made the commitment to receive the love and life-changing experience of Jesus Christ, please take a moment to Read John 3:16 for more information.
From Rick Warren:
Listen to Pastor Rick's daily Bible teaching and subscribe to his Daily Hope email devotional at
Facebook:
Twitter:
Instagram:
Podcast: