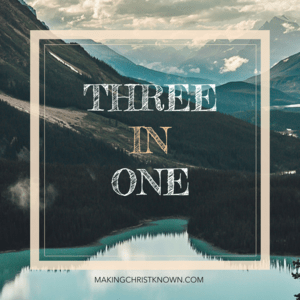 The lesson from the Bible today is a continuation of a past reading about how John baptized Jesus .
But, the story of baptism also relates to the Trinity of God.
If you read closely, The Father, Son, and Holy Spirit are clearly mentioned in Luke 3:21-22.
The Trinity and Baptism of Jesus Christ – Jesus Is Baptized
Now when all the people were baptized, Jesus also was baptized, and while He was praying, heaven was opened, and the Holy Spirit descended upon Him in bodily form like a dove, and a voice came from heaven:
"You are My beloved Son, in You I am well pleased." – Luke 3:21-22
The Trinity – John Baptizes Jesus
In the last Bible study lesson we covered the baptism of Jesus by John the Baptist.
We talked about why Jesus was baptized and what was going on at the time.
This passage from Luke is very short but it gives a mention of the Trinity.
What is the Trinity?
According to Scripture, the Trinity means Father, Son, and Holy Spirit – all in one.
This explanation has baffled scholars and theologians throughout the ages as no one can fully explain how one being can be divided into three – and still be the same.
As I searched for the answer, I realized I won't fully understand this riddle in my lifetime.
A Simplified Analogy
I once heard the Trinity explained in this way – and it comes closest to something I can understand as a human.
1) As a parent, I am a father.
2) As a married man, I am a husband
3) As I do have a mother and father, I am a son
These are all different entities living in one person.
Now, I don't want to simplify God – not in any sense, just giving an example of how a human can be three – dependent upon the circumstance.
The Difference in the Trinity of God
The example above still cannot fully explain how the Trinity of God works.
You see, God is a being like no other.
The Trinity is eternal (just like God) – it is equal in existence at the same time.
I give up!
I ask you, if you can explain how God works, please write your answer in the comments. Frankly, I don't think we're going to see many.
All in all, I guess I don't have to understand God; just believe in Him. d:-)
Love in Christ
– Bob
If you have never made the commitment to receive the love and life-changing experience of Jesus Christ, please take a moment to Read John 3:16 for more information.