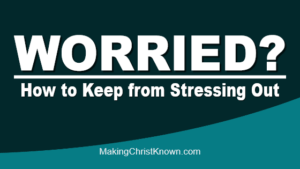 "If it's not worth praying about; it's not worth worrying about." ~ Pastor Rick Warren
Are you feeling stressed today? Your answer (like mine) is most likely yes.
And, this is not just some form of public paranoia.
The dangers we face and the situations in our country are real, don't you agree?
Well, Pastor Rick Warren has something to say about the stress we're feeling — and how to conquer this affliction.
Let's watch his video; "How to Keep from Stressing Out"…
Pastor Rick Warren — How to Keep From Stressing Out Video
Sit back and listen as Rick Warren shares his view on the causes of stress today and what we can do about it — through Christ.
He researched and found these seven common stress related facts we face today.
Top Causes of Stress Today
Your job
Money & Finance
Health
Relationships
Poor Diet
Media Overload (ie Facebook; Twitter; 24/7 News)
Lack of Sleep
What Does the Bible Say about Stress?
Pastor Warren talks about what the Bible says about stress and how to deal with it.
We all know that God is in control. But, sometimes we forget and causes us to stress over things outside our comfort zone.
In this Bible lesson, Rick Warren covers this well.
He mentions the words of Paul which really ring true today. It's almost like a recipe for getting rid of stress and turning everything over to God.
Paul says;
"Do not be anxious about anything, but in everything by prayer and pleading with thanksgiving let your requests be made known to God.
And the peace of God, which surpasses all comprehension, will guard your hearts and minds in Christ Jesus.
Finally, brothers and sisters, whatever is true, whatever is honorable, whatever is right, whatever is pure, whatever is lovely, whatever is commendable, if there is any excellence and if anything worthy of praise, think about these things.
As for the things you have learned and received and heard and seen in me, practice these things, and the God of peace will be with you.
God's Provisions
But I rejoiced in the Lord greatly, that now at last you have revived your concern for me; indeed, you were concerned before, but you lacked an opportunity to act.
Not that I speak from need, for I have learned to be content in whatever circumstances I am.
I know how to get along with little, and I also know how to live in prosperity; in any and every circumstance I have learned the secret of being filled and going hungry, both of having abundance and suffering need.
I can do all things through Him who strengthens me." – Philippians 4:6-13 NASB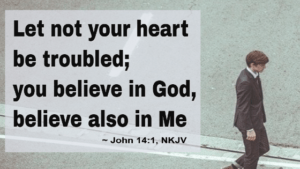 If you reflected on these Bible verses, I'm sure you felt the peace of Christ as I did.
God always knows.
Isn't He remarkable?
I hope the video by Rick Warren will help us today to get rid of some of the worries of life.
So, if it helps you, please comment below and share this positive message with your friends.
In Christ,
Bob
If You've Never Accepted Christ – Please Read Below..
If you have never made the commitment to receive the love and life-changing experience of Jesus Christ, please take a moment to read
John 3:16.