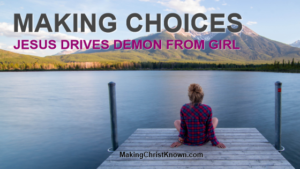 This Bible study lesson is about more than just Jesus driving out a demon from a girl.
The gentile woman in this story had two choices:
Acceptance
Rejection of Christ.
And, she made the right choice – many didn't!
Jesus Drives Out a Demon from a Girl – No Discrimination Involved..
In Mark 7, a simple thin line between acceptance and rejection led Jesus to remove a demon from the daughter of a woman from Tyre.
As often happened throughout the Bible, Jesus showed no prejudice when He used His great power. In this case, the woman was a Syrophoenician which made her a gentile (like me).
Great things happen when compassion takes the place of bigotry.
So, Mark 7:24-37 teaches about belief and choices – just as we have everyday.
Acceptance or Rejection of Christ – Jesus Drives Out a Demon from a Girl
Jesus got up and went away from there to the region of Tyre. And when He had entered a house, He wanted no one to know of it; yet He could not escape notice.
But after hearing of Him, a woman whose little daughter had an unclean spirit immediately came and fell at His feet.
Now the woman was a Gentile, of the Syrophoenician race. And she kept asking Him to cast the demon out of her daughter.
And He was saying to her, "Let the children be satisfied first, for it is not good to take the children's bread and throw it to the dogs."
But she answered and said to Him, "Yes, Lord, but even the dogs under the table feed on the children's crumbs."
And He said to her, "Because of this answer go; the demon has gone out of your daughter."
And going back to her home, she found the child lying on the bed, the demon having left. – Mark 7:24-30 NASB
Understanding the Words of Jesus – What Did He Mean?
Oftentimes, people (I am one of them) read verses in the Scripture. And, without background or the history behind them, completely miss the point.
We need to dig deeper into the meaning of what Jesus said to the woman whose daughter was demon possessed.
First, the dogs referred to here were mostly family pets in the wealthy land of Tyre.
The people were materialistic, much as they are in our own country today. So, they possessed many luxuries.
What about Children First?
Jesus said to the woman to feed and care for her children first. Then, worry about what the dogs would eat.
This is the same way Christ treated His disciples. He taught (provided for) them first without being interrupted.
Acceptance or Rejection?
As with many other people Jesus healed during His ministry, the power came from a willingness to accept Him.
Remember, God never forces people to believe or accept. It's always a choice.
The woman's simple answer of "Yes, Lord" shows her choice.
And, it released the power of Jesus so that her daughter was set free of the unwanted spirit.
Jews and Gentiles
As did many gentiles, this woman accepted Christ and believed in His authority.
She found a Savior.
We know that, many Jews would reject Him and lose their salvation. A bit of an irony, don't you agree?
What will We Do?
We are in the same situation right now.
Granted, we do not have a daughter with a demon inside. But, we do have the same offer of salvation from Christ.
He is willing to come into our hearts and guide us – if we only believe and accept.
No matter how materialistic we are, we cannot find anything on this earth more valuable or powerful than the Spirit of Jesus.
So, let's pray and thank Him for coming to live within us.
This is the greatest miracle of all!
Love in Christ
– Bob
If you would like to discover the love and life-changing experience of Jesus Christ, please take a moment to go here and take the first steps.