Listen as Dr. Coleman announces the baptism of his grandson, Cole. And, as he tells the story of his own baptism.
As you will see, it takes the efforts of many people to bring a child to Jesus Christ. Remember to bring others along with you too! – Bob
Dear Cole, You're 10 years old. Double digits. Wow. That is exciting. And, next Sunday will be YOUR special day – your baptism. That is even more exciting and, in fact, life changing. I was nine years old when I was baptized; I wanted to tell you about it. If I tried to tell you in person, I might cry (like your Mom does when she's happy!).
We lived on 4th Avenue East in Springfield, Tennessee. 4th Avenue was a dirt road that dead-ended into the Black Branch at the bottom of the hill. There was a wooden bridge across the branch and a path up the hill to where 4th Avenue continued.
Springfield Baptist Church was on the corner of 4th Avenue and Main Street, at the top of the hill. You could almost see the church from our house; it was walking distance.
Every Sunday, Mama and Daddy made sure that all six of us kids were dressed in the best we had and herded off to Church. It must have been a sight – all of us kids (not just our family, but several others, too) heading off down the hill to Black Branch, up the hill to the church.
So, Sunday was a day for Sunday School and Worship at the Springfield Baptist Church. I heard preaching there for as long as I could remember. My Pastor was Dr. Ralph Moore., and I had heard him preach those growing up years. He had two daughters about my age; I actually went to Belmont College with his oldest daughter.
I still remember when Dr. Moore came to our house and sat with Mama and me in our house. I don't remember whether we were having a revival or that this was just a regular visit to those who were getting ready to make some kind of decision about Jesus, and baptism, and the church.
I do remember like it was yesterday – it has been 65 years ago! – that after we had talked a little while (I guess we talked about Jesus and the church), Dr. Moore looked at me and asked: "Would you like to take Jesus as your Savior today?" I said: "Yes!" That was that. It was real. I was only nine, but it was real and has been just as real for all these years of my life.
Every now and then, I go back to that meeting at 219 4th Avenue, East. I can almost hear Dr. Moore's voice asking that life-changing question. I remember my hardy "yes" answer. I say, again almost out loud, "Thank you, Dr. Moore, for caring about a little boy nine years old.148; "Thank you, Mama (and Daddy, too) for all you did for all of us six kids."
I've grown older, finished high school and college, gone off to seminary, and taught at Wingate College (now University) for 50 years. I've grown a lot intellectually. I know a lot now that I did not know at age 9, and my faith has grown. But it is the same faith that was in my heart at age 9.
So, thank you, Dr. Moore. Thank you, Mama. Thank you, Jesus.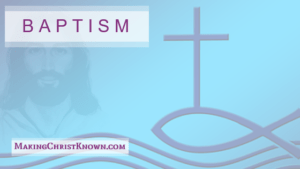 So, Sunday, March 21, 2010, Wilson Coleman Hancock will be baptized in the name of the Father, the Son, and the Holy Spirit.
We'll be there to say "amen" and to cheer you on as you enter the waters of baptism – being buried with Jesus, and as you are raised up into life as a new creature in Christ Jesus.
Again, I will remember my own baptism from all those years ago, and I'll say, "Thank you" to all those who helped me along the way.
For Cole, I'll say "thank you" to Jo, Roger, Bethany, Hugh, Nanny, Grandmama and Granddaddy Coleman, pastors, Sunday School teachers, youth leaders, and to all the many others who've loved and nudged him along the way!
"Thank you, Lord, for saving my soul;
Thank you, Lord, for making me whole.
Thank you, Lord, for giving to me,
Thy salvation, so rich and free." AMEN!
March 16, 2010
About the Author
G. Byrns Coleman is Professor of Religion and Chair of Department of Religion & Philosophy, Wingate University, Wingate, NC . He is also a member of Wingate Baptist Church .
If you have never made the commitment to receive the love and life-changing experience of Jesus Christ, please take a moment to go here and take the first steps to salvation.