For the most part, we recognize the name Ruth from the Bible. But, I had to do some reading to refresh my memory about the relationship between Naomi and Ruth.
Thought to be set during the Book of Judges, Naomi was a widow – living in the land of Moab.
We have studied Judges and we know that this was a very dark time in Israel's history.
It was a time of virtual anarchy.
The land of the Canaanites attracted many from Israel; and they fell away from their faith – worshiping the Canaan gods.
In this lesson from Ruth 1:1-21, we'll learn how a selfless widow inspires her daughter-in-law to become one of the greatest women in the Bible.
The Story of Naomi and Ruth – Selfless Women of Faith
And Naomi said to her two daughters-in-law, "Go, return each of you to her mother's house. May the Lord deal kindly with you as you have dealt with the dead and with me.
May the Lord grant that you may find rest, each in the house of her husband."
Then she kissed them, and they lifted up their voices and wept.
And they said to her, "No, but we will surely return with you to your people."
But Naomi said, "Return, my daughters. Why should you go with me? Have I yet sons in my womb, that they may be your husbands?
Return, my daughters! Go, for I am too old to have a husband.
If I said I have hope, if I should even have a husband tonight and also bear sons, would you therefore wait until they were grown?
Would you therefore refrain from marrying?
No, my daughters; for it is harder for me than for you, for the hand of the Lord has gone forth against me." ~ Ruth 1:8-13
Oprah Goes Back – Ruth Remains Faithful
Naomi's two daughters-in-law are Ruth and Oprah. Both are now widowed and without support.
Even though it would mean unimaginable hardship for Naomi to go back to Israel alone, she insisted that Ruth and Oprah return to Moab to find husbands for support.
Oprah, with hesitation, went back. But Ruth clung to Naomi and was determined to help her mother-in-law.
In the next verses, we'll see how a Moabitess woman shows an act of loyalty that becomes legendary.
The Amazing Loyalty of Ruth
And they lifted up their voices and wept again; and Orpah kissed her mother-in-law, but Ruth clung to her.
Then she said, "Behold, your sister-in-law has gone back to her people and her gods; return after your sister-in-law."
But Ruth said, "Do not urge me to leave you or turn back from following you; for where you go, I will go, and where you lodge, I will lodge.
Your people shall be my people, and your God, my God. Where you die, I will die, and there I will be buried.
Thus may the Lord do to me, and worse, if anything but death parts you and me." When she saw that she was determined to go with her, she said no more to her.
So they both went until they came to Bethlehem.
And when they had come to Bethlehem, all the city was stirred because of them, and the women said, "Is this Naomi?"
She said to them, "Do not call me Naomi; call me Mara, for the Almighty has dealt very bitterly with me.
I went out full, but the Lord has brought me back empty.
Why do you call me Naomi, since the Lord has witnessed against me and the Almighty has afflicted me?"
So Naomi returned, and with her Ruth the Moabitess, her daughter-in-law, who returned from the land of Moab.
And they came to Bethlehem at the beginning of barley harvest. ~ Ruth 1:14-21
"And Your God, My God.."
I can see in my mind the strength of Ruth as she uttered these words, can't you?
Naomi felt hopeless in her situation. When she left Israel, she had a husband and two sons. Her security was certain.
When she returns, she has nothing. Or does she? In truth, she has a precious ally – Ruth!
The bitterness of her misfortune caused her change her name to Mara.
But, this young woman from Moab shows tremendous loyalty and a faith that God will take care of them. And He did!
God had a plan for Ruth and Naomi, just as His plans work all through the Bible. They returned to Bethlehem – the birthplace of Christ. So, returning to this special place fulfilled Scripture.
We'll see how this all makes sense as we meander through the Book of Ruth.
For Today – Selfless Actions Create Selfless Actions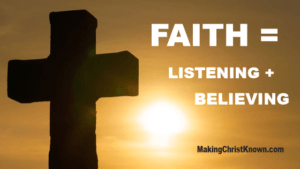 As we saw in the verses above, Naomi was willing to sacrifice her security (in a big way) so that her daughters-in-law would survive.
But, her actions inspired Ruth to give up everything for Naomi.
And, her faith in God is clear in this passage ("And your God, my God..").
We can learn about courage and selfless behavior from Naomi and Ruth.
They were willing to die for each other. Can we do something for someone today – who can't do anything for us?
Love in Christ,
Bob
If you would like to discover the love and life-changing experience of Jesus Christ, please take a moment to go here.