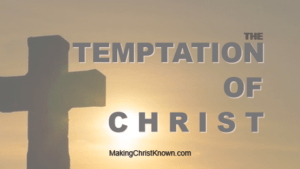 First, a strange question; Was Jesus ever tempted?
The answer is a simple yes.
According to the Bible, Luke chapter 4 makes it very clear that Satan is a real being.
And, he raises his ugly head to tempt and discourage those who make an effort to follow Christ.
So, how do we overcome Satan when we are tempted?
Let's see what Jesus did when He faced temptation…
Satan Tempts Jesus – Luke 4
"Now Jesus, full of the Holy Spirit, returned from the Jordan and was led around by the Spirit in the wilderness for forty days, being tempted by the devil.
And He ate nothing during those days, and when they had ended, He was hungry.
And the devil said to Him, "If You are the Son of God, tell this stone to become bread."
And Jesus answered him, "It is written: 'Man shall not live on bread alone.'"
And he led Him up and showed Him all the kingdoms of the world in a moment of time.
And the devil said to Him, "I will give You all this domain and its glory, for it has been handed over to me, and I give it to whomever I want.
Therefore if You worship before me, it shall all be Yours."
Jesus replied to him, "It is written: 'You shall worship the Lord your God and serve Him only.'"
And he brought Him into Jerusalem and had Him stand on the pinnacle of the temple, and said to Him, "If You are the Son of God, throw Yourself down from here; for it is written:
'He will give His angels orders concerning You, to protect You,' and, 'On their hands they will lift You up, So that You do not strike Your foot against a stone.'"
And Jesus answered and said to him, "It has been stated, 'You shall not put the Lord your God to the test.'"
And so when the devil had finished every temptation, he left Him until an opportune time." – Luke 4:1-13 (NASB)
The Temptation of Christ – A War Between God and Satan
Some believe that Satan does not exist – a figment of the imagination.
But, just as God is real, so is Satan.
The devil is a fallen angel who is in a constant battle with God and anything that is considered good.
Jesus Fights Satan
The devil was naive enough to think he could tempt Christ with worldly possessions and power.
In Luke chapter 4, he offers Him the kingdoms of the earth and food when Jesus was hungry.
Could Jesus have made bread from rocks? Of course he could just as God could send a bolt of lightning down to solve all our problems for us.
But, Jesus had a mission in the desert.
He was not to be tempted by man or Satan.
Jesus stood fast, quoting Scripture whenever Satan made a move.
So, the devil had nowhere to go with his temptation.
In verse 13, it simply states
"he left Him until an opportune time.".
The Christian Battle
Satan literally hates to see people follow God and not him.
When a person is experiencing a high point in their Christian life, Satan intervenes to every extent of his ability.
So, we have to be on guard when we see temptation coming – and it will come.
How Do We Fight Satan?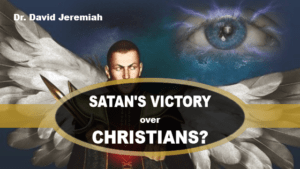 When Satan attacks, there is one sure way we can win.
Trust in God to back us up against Satan when we are tempted.
The Scripture is our defense and our offense against Satan.
He can not win against the Word of God!
And, as Christians we already know the outcome of this spiritual war – God Wins!
Love in Christ
– Bob
If you have never made the commitment to receive the love and life-changing experience of Jesus Christ, please take a moment to Read John 3:16 for more information.