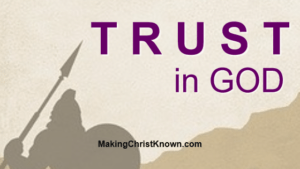 Fear takes charge of the great Philistine army in this chapter from 1 Samuel.
And, we are no strangers to fear in these times, are we?
Our daily lives are filled with seemingly hopeless situations from the news stations — and through opinions online.
At the time of this writing the USA is literally plagued with the COVID-19 virus and even civil unrest.
But, don't give up quite yet. Especially, don't give up on God!
Let's see how He leads Jonathan in battle against insurmountable odds — to victory!
Jonathan Leads an Attack against the Philistines in 1 Samuel
Then Jonathan said to the young man who was carrying his armor, "Come and let us cross over to the garrison of these uncircumcised; perhaps the Lord will work for us, for the Lord is not restrained to save by many or by few."
His armor bearer said to him, "Do all that is in your heart; turn yourself, and here I am with you according to your desire."
Then Jonathan said, "Behold, we will cross over to the men and reveal ourselves to them. If they say to us, 'Wait until we come to you'; then we will stand in our place and not go up to them. But if they say, 'Come up to us,' then we will go up, for the Lord has given them into our hands; and this shall be the sign to us."
When both of them revealed themselves to the garrison of the Philistines, the Philistines said, "Behold, Hebrews are coming out of the holes where they have hidden themselves."
So the men of the garrison hailed Jonathan and his armor bearer and said, "Come up to us and we will tell you something." And Jonathan said to his armor bearer, "Come up after me, for the Lord has given them into the hands of Israel."
Then Jonathan climbed up on his hands and feet, with his armor bearer behind him; and they fell before Jonathan, and his armor bearer put some to death after him.
That first slaughter which Jonathan and his armor bearer made was about twenty men within about half a furrow in an acre of land.
And there was a trembling in the camp, in the field, and among all the people. Even the garrison and the raiders trembled, and the earth quaked so that it became a great trembling.
Now Saul's watchmen in Gibeah of Benjamin looked, and behold, the multitude melted away; and they went here and there.
Saul said to the people who were with him, "Number now and see who has gone from us." And when they had numbered, behold, Jonathan and his armor bearer were not there.
Then Saul said to Ahijah, "Bring the ark of God here." For the ark of God was at that time with the sons of Israel.
While Saul talked to the priest, the commotion in the camp of the Philistines continued and increased; so Saul said to the priest, "Withdraw your hand."
Then Saul and all the people who were with him rallied and came to the battle; and behold, every man's sword was against his fellow, and there was very great confusion.
Now the Hebrews who were with the Philistines previously, who went up with them all around in the camp, even they also turned to be with the Israelites who were with Saul and Jonathan.
When all the men of Israel who had hidden themselves in the hill country of Ephraim heard that the Philistines had fled, even they also pursued them closely in the battle.
So the Lord delivered Israel that day, and the battle spread beyond Beth-aven. – 1 Samuel 14:6-23 NASB
Saul — The Clueless General
As you noticed, Saul didn't give the initial order to attack the Philistines. After all, Israel was hopelessly outnumbered and out-gunned.
So, why did Jonathan go alone?
This is not clear but there could be a number of reasons:
Maybe he (Jonathan) was tired of waiting for this father to end the standoff.
He felt assured of victory because God was with them.
Jonathan could have gone with the old saying: "It's easier to get forgiveness than permission." (Meaning his father might have said "No" if asked.)
In any case, he seemed compelled to trust God and move forward with his plan.
In the Face of Fear – Trust God
As you read above and in chapter 3, Jonathan's small force was no match for the great Philistine army.
So, just as his ancestors had done many times before, Jonathan used the greater power of God to ensure victory – no matter the odds.
You see, numbers mean nothing to God. Only faith prevails.
When We Face "The Enemy"
Have you felt overwhelmed this year?
Do the situations you face daily keep you awake at night?
Personally, I've worried and fretted more this year than normal. It's almost impossible to totally ignore what's going on in our world, isn't it?
Think God
As we've learned time and time again, we all face "enemies" in our lives too big for us to handle. And, yours is most likely different from mine.
But, through it all God is faithful to His people.
Just as He led Jonathan to victory, He will help us through this.
If you've followed this site for a while, you know one of my favorite (and most comforting) verses comes from John 14:1…
"Let not your heart be troubled; you believe in God, believe also in me."
Lastly – Baby Steps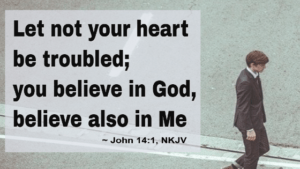 Now, we come to the solution when things look bleak. We can approach our trials with fear or with faith.
We can look from side to side or we can look up. And remember, the up-look is always better than the outlook.
Take down these three courses of action when times look bleak..
Pray – Ask God to help you through.
Look for possible solutions (If there are none or the situation is completely out of your control, go back to step one.)
Take small, deliberate steps to start a chain of events toward solving your dilemma.
Be patient. I know it's tough to wait it out sometimes but with God, everything will work out. I can still hear Dr. Byrns Coleman when he said:
"The Lord is my Shepherd — So everything's gonna be alright."
Remember, we as Christians have the Spirit of Christ to guide and comfort us in these times. Let's share that encouragement with others who need God's help.
In Christ,
Bob
If you have never made the commitment to receive the love and life-changing experience of Jesus Christ, please take a moment to read John 3:16.