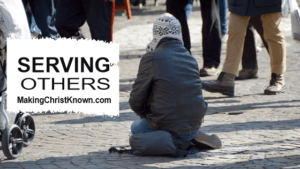 First, why did Christ come to earth from heaven? What was His main purpose?
Most Christians know the reason from John 3:16 but, the disciples didn't have the benefit of a written Bible (or any New Testament) to answer their questions.
So, today we'll find the answer to the question; "What did Jesus say about serving others?".
And, the answer He gave the disciples was not what they expected!
The Disciples Asked for Power But – Jesus Came to Serve | What Did Jesus Say about Serving Others?
What is service? I searched online and here's how Dictionary.com describes service:
..to supply with aid, information, or other incidental services.
In Mark 10, we learn that many of the disciples believed Jesus would overthrow the Roman government. Then, He would rule here on earth.
They were anxious to share in that wealth and power. But, they would not understand until much later why Jesus came to earth.
Bible Study Lesson from Mark 10:35-45 – Serving Others
In this Bible lesson, James and John decided to ask Jesus for a great favor.
Part of this favor was granted. But, the other part was not.
They wanted to rule alongside of Christ when He "overthrew" the Roman government. But, this was not in Jesus' plan.
His plan was to serve, to suffer and die for our sins.
Jesus Serves – What Did Jesus Tell the Disciples about Serving Others?
James and John, the two sons of Zebedee, came up to Jesus, saying, "Teacher, we want You to do for us whatever we ask of You."
And He said to them, "What do you want Me to do for you?"
They said to Him, "Grant that we may sit, one on Your right and one on Your left, in Your glory."
But Jesus said to them, "You do not know what you are asking. Are you able to drink the cup that I drink, or to be baptized with the baptism with which I am baptized?"
They said to Him, "We are able."
And Jesus said to them, "The cup that I drink you shall drink; and you shall be baptized with the baptism with which I am baptized.
But to sit on My right or on My left, this is not Mine to give; but it is for those for whom it has been prepared."
Hearing this, the ten began to feel indignant with James and John.
Calling them to Himself, Jesus said to them, "You know that those who are recognized as rulers of the Gentiles lord it over them; and their great men exercise authority over them.
But it is not this way among you, but whoever wishes to become great among you shall be your servant; and whoever wishes to be first among you shall be slave of all.
For even the Son of Man did not come to be served, but to serve, and to give His life a ransom for many." – Mark 10:35-45 NASB
Christ Talks about Serving Each Other – And, Reveals Why He Came to the Disciples
The final verse in this passage is worth repeating:
"For even the Son of Man did not come to be served, but to serve, and to give His life a ransom for many."
James and John thought (like the other disciples) that Jesus was going to establish a kingdom here on earth and rule — to conquer Rome.
They wanted very much to be among those who ruled in this new kingdom.
Jesus knew that His kingdom would be in heaven, not of this earth.
And, He knew He would have to die (pay the ransom) for our sins.
Be Careful What You Ask For!
He granted James and John the request they made to "drink from the cup" . Both disciples did suffer immensely for the sake of Jesus after His resurrection.
But, as for sitting in a place of honor beside Jesus and ruling with Him, this was not granted at that time.
The Servants Will Prevail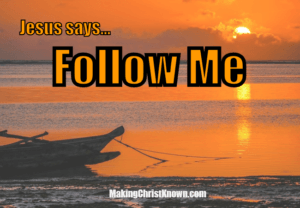 Jesus explained that, in order to reach high places in His kingdom, the disciples would have to serve others.
We often ask God for things we want to happen in our lives.
And, we offer to follow and serve.
But, we become discouraged when it doesn't go quite the way we thought it would.
We complain about the little things, and stop focusing on the important issues.
Christ has a different plan for us.
To Lead as Christians – We Must Follow
Our glory will not be by our physical or monetary accomplishments on earth, but in how well we follow Christ's teachings of serving and loving others.
Jesus gave only two commandments ..
"Love God and Love Each Other."
One of the best ways to carry out these commandments is to serve others.
The next time we pray, instead of just asking for something we think we want, why not ask God to speak to us. Ask Him how & where He would like for us to serve.
Love in Christ
– Bob
If you would like to learn more about how to receive the love and life-changing experience of Jesus Christ, please take a moment to go here….