Conviction: Although I basically know the meaning of the word, I looked it up at dictionary.com.
The definition is really simple..
"a fixed or firm belief."
In the Bible study today, we look at 1 Samuel, chapter 3.
This chapter gives us the story of how Abner joins David to help him become king over all of Israel.
The reading also tells about the character of Ish-bosheth, the king over Israel.
The Kingdom at Stake and How Abner Joins David
"Now it happened that while there was war between the house of Saul and the house of David, Abner was strengthening himself in the house of Saul.
And Saul had a concubine whose name was Rizpah, the daughter of Aiah; and Ish-bosheth said to Abner, "Why have you gone in to my father's concubine?"
Then Abner became very angry over Ish-bosheth's question and said, "Am I a dog's head that belongs to Judah?
Today I show kindness to the house of Saul your father, to his brothers and to his friends, and have not let you fall into the hands of David; yet today you call me to account for wrongdoing with that woman?
May God do so to me, and more so, if as the Lord has sworn to David, I do not accomplish this for him: to transfer the kingdom from the house of Saul, and to establish the throne of David over Israel and over Judah, from Dan even to Beersheba!"
And Ish-bosheth could no longer say a word in response to Abner, because he was afraid of him.
Then Abner sent messengers to David at his place, saying, "Whose is the land?
Make your covenant with me, and behold, my hand shall be with you to bring all Israel over to you."
And he said, "Good! I will make a covenant with you, only I require one thing of you, namely, that you shall not see my face unless you first bring Michal, Saul's daughter, when you come to see me."
So David sent messengers to Ish-bosheth, Saul's son, saying, "Give me my wife Michal, to whom I was betrothed for a hundred foreskins of the Philistines."
Ish-bosheth sent men and had her taken from her husband, from Paltiel the son of Laish.
And her husband went with her, weeping as he went, following her as far as Bahurim. Then Abner said to him, "Go, return." So he returned.
Now Abner had a consultation with the elders of Israel, saying, "In times past you were seeking for David to be king over you.
Now then, do it! For the Lord has spoken regarding David, saying, 'By the hand of My servant David I will save My people Israel from the hand of the Philistines, and from the hands of all their enemies.'"
Abner also spoke to Benjamin; and in addition Abner went to speak to David in Hebron everything that seemed good to Israel and to the entire house of Benjamin.
Then Abner and twenty men with him came to David at Hebron.
And David held a feast for Abner and the men who were with him.
Abner said to David, "Let me set out and go and gather all Israel to my lord the king, so that they may make a covenant with you, and that you may be king over all that your soul desires."
So David let Abner go, and he went in peace." – 2 Samuel 3:6-21 (NASB)
Ish-Bosheth and Abner – The Accusation
A quick question: Was Ish-Bosheth right in questioning Abner about sleeping with Rizpah, Saul's concubine?
Of course he was.
But, as we know, convictions come with consequences.
Ish-Bosheth did not have the courage to follow through with his conviction of Abner — because he was afraid.
Fear – The Prevalent Threat to Our Freedom
At my age, I was fortunate to grow up in a much simpler time. We didn't even lock our doors at night.
Can you imagine that today?
Yes, with the epidemic and global turmoil going on in these times, it's no wonder we live with fear.
But remember, fear controls — if we allow it.
Especially for Christians, fear comes from Satan. He loves to instill fear in our hearts so we can do his bidding.
That hesitation to share our feelings about God, freedom, (or fill in the blank for your life) comes from fear; which comes from Satan.
The good news is that God can help us overcome that fear to share His love with a dying world.
What do the Heroes say?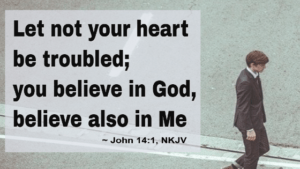 I love history. And, most interviews with heroes I've listened to all point out one common factor — They all experienced fear!
In fact, most will say this line in one way or another…
"I was frightened; but I did it anyhow."
Are you facing a fearful situation as we speak?
There is a solution.
Sure, some things in life are just too dangerous to pursue. I'm not talking about those.
But, when we have that fear of failure or embarrassment to contend with, evaluate the outcome —
Then pray!
God is stronger than any fear Satan can instill.
And, He wants to help. We only need to ask.
In Christ,
Bob
If you would like to discover how to receive the love and life-changing experience of Jesus Christ, please take a moment to see John 3:16 here.