The religious leaders are up to their old tricks in this passage. As always, they remain unconcerned with the answer.
They only want to trip Jesus up by asking a simple question;
What is the greatest commandment in the Bible?
In today's Bible study lesson, Jesus addresses this question – and gives the Scribes an answer they couldn't deny.
These two commandments have become the core of the Christian lifestyle.
Listen, as He gives the religious leaders, and us, the answer in Mark 12.
Religious Leaders Question: What Did Jesus Say about the Greatest Commandment?
 One of the scribes came and heard them arguing, and recognizing that He had answered them well, asked Him, "What commandment is the foremost of all?"
Jesus answered, "The foremost is, 'Hear, O Israel! The Lord our God is one Lord;  and you shall love the Lord your God with all your heart, and with all your soul, and with all your mind, and with all your strength.'
The second is this, 'You shall love your neighbor as yourself.'
There is no other commandment greater than these."
The scribe said to Him, "Right, Teacher; You have truly stated that He is One, and there is no one else besides Him; and to love Him with all the heart and with all the understanding and with all the strength, and to love one's neighbor as himself, is much more than all burnt offerings and sacrifices."
When Jesus saw that he had answered intelligently, He said to him, "You are not far from the kingdom of God."
After that, no one would venture to ask Him any more questions. – Mark 12:28-34

Jesus Explains the Two Greatest Commandments of the Bible
In Deuteronomy 6:4-5, the Bible verse reads:
"Hear, O Israel! The Lord is our God, the Lord is one! You shall love the Lord your God with all your heart and with all your soul and with all your might."
So, Jesus didn't come to change the law – He came to fulfill it. Christ makes this crystal clear in Matthew 5:17. He says;
"Do not think that I came to abolish the Law or the Prophets; I did not come to abolish but to fulfill."
This passage from Mark 12 is one of my favorites. It clarifies what we were created and put on earth to do..
Love God & Love Each Other
When you love God and love others, you are obeying the Ten Commandments in their entirety.
It is a near impossibility to love your neighbor as yourself and then…
Lie to them,
cheat or steal from them,
kill them
and you know the rest!
This command is so simple, yet so difficult to do.
Truth is, it's easy to love our friends and family. But..
What about the guy with the spiked hair and leather pants?
The homeless person who asks for a hand;
The prostitute;
The murderer?
Can we love all these people as much as we love ourselves? If you answered yes then I have to doubt you.
I can't always answer yes to these questions. This is why I need Christ to help me, and to forgive me for not following His command.
Romans 3:23:23 says:
"for all have sinned and fall short of the glory of God,"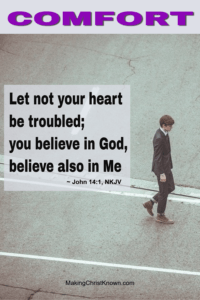 While doing this commentary, a funny story came to my mind; Once upon a time, a child asked God in a prayer…
"God, is it true that all the world is your children and that you love them all?"
Then he added, "I only have four in my family and I have a hard time loving all of them all the time!"
Sure, people will put us to the test. They will say or do things that offend or upset us.
But, according to Jesus, we still must love them.
I know, just as the child says above, it is very difficult to love each other all the time. But, we must at least make an effort; if we are to follow Jesus.
Love in Christ
– Bob
If you have never made the commitment to receive the love and life-changing experience of Jesus Christ, please take a moment to go here.