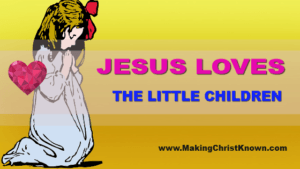 Although the disciples and many other followers of Jesus chastised Him for spending too much time with children, Christ shows that we should have the same innocent trust in Him.
Bible Study Lesson from Mark 10:13-16
What is trust? Do we have it?
This Bible study lesson from the Book of Mark takes us on a route to why we have problems following Christ.
We just can't seen to trust as little children do. Yes, Jesus blesses the children in Scripture but, He will bless us too – with a little faith.
When we have child-like faith, and learn to live thankfully, our eyes are opened to the love of Christ – that same love He shows in the passage below.
Let's see what happens in Mark 10..
Mark 10 – Jesus Blesses the Children
And they were bringing children to Him so that He might touch them; but the disciples rebuked them.
But when Jesus saw this, He was indignant and said to them, "Permit the children to come to Me; do not hinder them; for the kingdom of God belongs to such as these.
Truly I say to you, whoever does not receive the kingdom of God like a child will not enter it at all."
And He took them in His arms and began blessing them, laying His hands on them. – Mark 10:13-16 NASB
Children Come to Christ
It seems that, no matter what position a person holds, people will criticize them.
It was no different with Jesus; even the chosen disciples sometimes second-guessed what Christ was doing.
The Value of Children
When we think of children, we have positive thoughts of those cute little toddlers who are really precious, don't we?
But, it was a different world in Jesus's time.
In the days of the New Testament, children were not very high in status. In fact, they were pretty much considered worthless until they were old enough to work the fields – or take care of the livestock.
So, the disciples could not understand why Jesus would "waste His time" with these lowly human beings.
We see the same criticism throughout the ministry of Christ in that He always seemed to be "hanging out" with the wrong crowd.
A Matter of Importance – Who should Jesus Spend Time With?
Let's name a few "important groups" (in the eyes of followers and disciples):
Pharisees
Dignitaries and politicians
Priests, Levites and other religious leaders.
Certainly not tax collectors (Matthew was one), sinners or children!
They felt that Jesus could raise His status by talking with, and being seen with this "better class" of people.
But, does Jesus really need to improve His position?
The Faith of Children
Trust – a word we sometimes leave out when it comes to following Christ.
Why? Because we are too caught up in trying to understand the intellect of Jesus's teachings.
Not so with children. They only need love and attention from someone they trust. That's all!
What About Our Trust in Christ?
Jesus said we should come to Him as children; not to gain the knowledge of the universe, but to follow Him with the wide-eyed trust that little children possess.
In closing, my brother once said to me he would like to get back to the point of faith and trust he had when he was baptized at 12 years old.
My brother has gone on to live with the Lord now. But, his words came back to me as I began writing this message. And, they are true for most of us in our walk with God.
Let's not try to make trusting in Christ so complicated. Remember, "Jesus loves the little children."
Love in Christ
– Bob
If you would like to discover how to receive the love and life-changing experience of Jesus Christ, please take a moment to see John 3:16 here.