The unwilling king:
What is a responsible leader? Well, you could most likely give several viable descriptions, couldn't you?
And, in today's world of Facebook and Twitter, most people could certainly give their description of a "good" or "bad" leader.
So, where does that leave us with Saul? Let's find out in 1 Samuel how God sends a king to Israel to accept the great responsibility of leading His people.
Samuel Anoints Saul as King of Israel
Then Samuel took the flask of oil, poured it on his head, kissed him and said, "Has not the Lord anointed you a ruler over His inheritance?
When you go from me today, then you will find two men close to Rachel's tomb in the territory of Benjamin at Zelzah; and they will say to you, 'The donkeys which you went to look for have been found.
Now behold, your father has ceased to be concerned about the donkeys and is anxious for you, saying, "What shall I do about my son?"'
Then you will go on further from there, and you will come as far as the oak of Tabor, and there three men going up to God at Bethel will meet you, one carrying three young goats, another carrying three loaves of bread, and another carrying a jug of wine; and they will greet you and give you two loaves of bread, which you will accept from their hand.
Afterward you will come to the hill of God where the Philistine garrison is; and it shall be as soon as you have come there to the city, that you will meet a group of prophets coming down from the high place with harp, tambourine, flute, and a lyre before them, and they will be prophesying.
Then the Spirit of the Lord will come upon you mightily, and you shall prophesy with them and be changed into another man.
It shall be when these signs come to you, do for yourself what the occasion requires, for God is with you.
And you shall go down before me to Gilgal; and behold, I will come down to you to offer burnt offerings and sacrifice peace offerings.
You shall wait seven days until I come to you and show you what you should do." – 1 Samuel 10:1-8 NASB
Responsibility to God
In days of kings, a great coronation ceremony was held. And, when the ceremony was over, the country had a new king.
This is still practiced in some countries today. But, crowning a king in Israel involved a second step (or rather the first).
The king of Israel was anointed as well as established politically.
Why was Saul anointed?
Saul was crowned to show he was ruler over the people. But, the anointing was to remind him his first responsibility was to lead by God's wisdom.
Samuel poured the anointing oil over Saul's head; symbolizing God's power and presence through the Holy Spirit.
Yes, Saul was filled with the spirit of God on this day. But, we'll later see this young man commit evil acts against God and man.
The "Temporary" Prophet
As we've seen in the Book of Judges, God often moves in the lives of "not so pure" people.
In fact, look at Samson or Jephthah, the outcast of Israel to understand how God can use anyone to do His will – even you & me!
Saul was no different. God filled him with the spirit in the beginning to accomplish great things.
And remember, God doesn't move away – we do.
What about Us? Are We Called by God?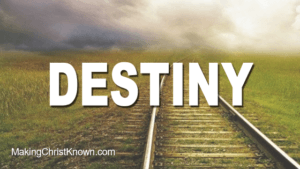 Of course we are!
Each of us has talents and spiritual gifts. As Christians, we are called upon to use those gifts to honor God.
Saul would later turn away from God. But, we don't have to.
Christ is there for us. He will help us accomplish His great commission if we allow Him to lead.
Saul only felt the spirit temporarily – Christ's Holy Spirit is forever.
Love in Christ,
Bob
If you would like to discover how to receive the love and life-changing experience of Jesus Christ, please take a moment to see John 3:16 here.