The Bible reading is very short today. In fact, the main focus is on two verses from Mark 14.
But, these two short sentences sealed the fate of Christ – and opened the door for hope.
In this lesson from the New Testament, Judas accepts the offer of money to send Jesus to the Cross.
Here, Scripture sends us a powerful Easter message but also a thought provoking study for us to ponder.
So, the Easter story continues…
Judas Agrees to Betray Jesus – Two Profound Verses from the Easter Story
Then Judas Iscariot, who was one of the twelve, went off to the chief priests in order to betray Him to them.
They were glad when they heard this, and promised to give him money. And he began seeking how to betray Him at an opportune time. – Mark 14:10-11NASB
The Betrayal of Christ by Judas Iscariot
What is the "Kingdom of Christ"?
Judas (and the other disciples) thought that the kingdom of Christ was to be established here on earth.
Remember that Judas Iscariot was a treasurer. So, he expected to receive an important position (and riches) in this new government after Jesus overthrew Rome.
But, he finally realized that Jesus' kingdom was spiritual, not physical.
He discovered the truth when Jesus allowed the woman to pour out perfume (Mark 14:3-9). This perfume was probably worth about a year's salary.
To a man who loved money, this act was a devastating blow to Judas.
Judas is Trapped by Dreams of Power and Wealth
Judas allowed his love for money and power to affect his judgment. So, his greed helped to send Jesus to the Cross.
These actions of Judas bring up two soul-searching questions for us:
Are we any better?
How important is the love of money and/or position in our lives?
Our Focus – Where is It?
Especially in America, we all want nice things. These include…
A more important job
a better house
status in the community
and whatever you and I can include here.
Is there anything wrong with wanting a better life? In a word, no.
But, when we let our jobs, love of money and possessions – or lust for power interfere with our reason for being on earth, following Christ sometimes becomes the last thing on our minds.
In our neglect, do we send Him back to the cross too?
The Love of Christ
Even though he betrayed Him, Jesus loved Judas. In truth, all through the New Testament we learn about Christs' love for others.
Romans 5:8 says:
"But God demonstrates His own love toward us, in that while we were yet sinners, Christ died for us."
Sure, we stray away and fall for the "shiny objects" in life.
And God knows our hearts.
But the good news? God welcomes us back when we admit our faults and failures.
Remember the enlightening verses 31-32 from Luke 15?
"And he said to him, 'Son, you have always been with me, and all that is mine is yours. But we had to celebrate and rejoice, for this brother of yours was dead and has begun to live, and was lost and has been found.'"
Just as the father welcomed back the prodigal son, God forgives us.
The Decision
The decisions we make about money and power can sometimes be related to the choice Judas Iscariot made.
He could have chosen to follow Christ to the end or take the pieces of silver (which he loved).
We have those choices too!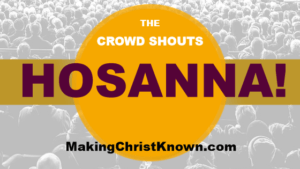 We can choose to betray Jesus just as Judas did or we can work at remaining faithful to him.
I am going to consider these things in my heart and pray for guidance.
I hope you will also.
Let's decide which is more important – the obvious good life or eternal life.
Love in Christ
– Bob
If you have never made the commitment to receive the love and life-changing experience of Jesus Christ, please take a moment to read John 3:16 here…