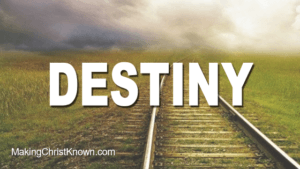 I've been there; and so have you. I'm talking about looking back on something that happened in the past – now affecting the present, or the future.
Truth is, we don't know for certain how events and decisions in our lives today can affect future events.
Neither did Ruth or Naomi. They only knew that God was in control. And, they trusted Him to work things out for eternity.
That's why I want to talk today about how the journey of Ruth and Naomi led to events which changed history, and brought Jesus to the world through God's plan. Let's study the Bible from Ruth 4..
Journey from Ruth to Christ – Ruth Chapter 4
Now Boaz went up to the gate and sat down there, and behold, the close relative of whom Boaz spoke was passing by, so he said, "Turn aside, friend, sit down here."
And he turned aside and sat down. He took ten men of the elders of the city and said, "Sit down here." So they sat down.
Then he said to the closest relative, "Naomi, who has come back from the land of Moab, has to sell the piece of land which belonged to our brother Elimelech.
So I thought to inform you, saying, 'Buy it before those who are sitting here, and before the elders of my people.
If you will redeem it, redeem it; but if not, tell me that I may know; for there is no one but you to redeem it, and I am after you.'"
And he said, "I will redeem it." Then Boaz said, "On the day you buy the field from the hand of Naomi, you must also acquire Ruth the Moabitess, the widow of the deceased, in order to raise up the name of the deceased on his inheritance."
The closest relative said, "I cannot redeem it for myself, because I would jeopardize my own inheritance. Redeem it for yourself; you may have my right of redemption, for I cannot redeem it."
Now this was the custom in former times in Israel concerning the redemption and the exchange of land to confirm any matter: a man removed his sandal and gave it to another; and this was the manner of attestation in Israel.
So the closest relative said to Boaz, "Buy it for yourself." And he removed his sandal.
Then Boaz said to the elders and all the people, "You are witnesses today that I have bought from the hand of Naomi all that belonged to Elimelech and all that belonged to Chilion and Mahlon. Moreover, I have acquired Ruth the Moabitess, the widow of Mahlon, to be my wife in order to raise up the name of the deceased on his inheritance, so that the name of the deceased will not be cut off from his brothers or from the court of his birth place; you are witnesses today."
All the people who were in the court, and the elders, said, "We are witnesses. May the Lord make the woman who is coming into your home like Rachel and Leah, both of whom built the house of Israel; and may you achieve wealth in Ephrathah and become famous in Bethlehem.
Moreover, may your house be like the house of Perez whom Tamar bore to Judah, through the offspring which the Lord will give you by this young woman."
So Boaz took Ruth, and she became his wife, and he went in to her.
And the Lord enabled her to conceive, and she gave birth to a son.
Then the women said to Naomi, "Blessed is the Lord who has not left you without a redeemer today, and may his name become famous in Israel.
May he also be to you a restorer of life and a sustainer of your old age; for your daughter-in-law, who loves you and is better to you than seven sons, has given birth to him."
The Line of David Began Here
Then Naomi took the child and laid him in her lap, and became his nurse.
The neighbor women gave him a name, saying, "A son has been born to Naomi!" So they named him Obed.
He is the father of Jesse, the father of David.
Now these are the generations of Perez:
to Perez was born Hezron,
and to Hezron was born Ram,
and to Ram, Amminadab,
and to Amminadab was born Nahshon,
and to Nahshon, Salmon,
and to Salmon was born Boaz, and to Boaz, Obed,
and to Obed was born Jesse,
and to Jesse, David. ~ Ruth 4:1-22
How Boaz Married Ruth
Did you notice how Boaz presented the situation to the first kinsman redeemer? He first told of the land for sale without mentioning Ruth was part of the story.
Then, after the kinsman redeemer agreed, Boaz gave him the stipulations which went with the land – mainly Ruth.
The first redeemer did not want to tie up his property with another heir; so he declined.
This left Boaz as the next in line to marry Ruth.
God was at work here. He knew the outcome of the Boaz-Ruth marriage would lead to the birth of David. And eventually, this family line would lead to Jesus' birth.
Do We Trust God's Future – or Ours?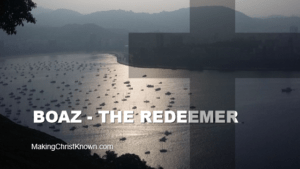 Yes, the Book of Ruth is short; only 4 chapters. But, it's not just another story of a fortunate girl who beat all odds.
It's a story of how faith led her and Naomi to another land and how they became an intriguing part of God's great plan.
You see, we all have events and even tragedies in our lives which we don't understand.
We sometimes ask God; "Why did this have to happen?", not knowing what God has in store for the future.
Ruth could have asked God this question. Why did her husband and father-in-law have to die while she was so young; leaving her with no means of support?
But instead, she had faith and a determination to stay with Naomi even though it meant a great burden for both.
No, Ruth had no idea that her faith would play a key role in the birth of our Savior. And, she was not alive when this event took place!
This is the kind of faith I struggle with. And, maybe you do too.
But, if we can try to make our life choices with God in mind, we become part of a destiny that reaches beyond our lifetime.
We can't see the future beyond what we do today – but God does!
Can we at least try to talk to God before making decisions? Then, let's listen to what He has to say.
Love in Christ,
Bob
If you would like to discover the love and life-changing experience of Jesus Christ, please take a moment to go here.