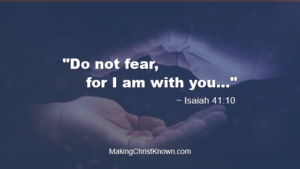 We love to complain, don't we? If you answered "No", then I believe you're in the minority.
We complain about the weather; "It's too hot" or, "It's too cold".
Complaining about politics has become a national pastime on social media.
No matter which side of the platform we're on, the other guy is wrong.
This is just the tip of the iceberg. There are literally hundreds of things and situations we complain about every day, aren't there?
Patrick John Hughes Story
But, when you listen to the story of Patrick John Hughes and his son in this video by Max Lucado, your opinion about complaining might just change, as did mine.
So, let's listen closely to the story and the Bible lesson from Genesis as Max Lucado talks about Joseph..
How to Really Trust God – Max Lucado Video
Joseph Trusted God – No Matter What!
In the video, we learn how Joseph trusted God completely, no matter where He led him.
We sometimes find ourselves in situations where we have no idea where we are going — or what we're going to do.
But remember, God knows exactly where He is "pushing" us.
If we only trust Him, God will never dump us out of our wheelchair.
So, no matter what comes our way, we can rest assured that God will bring us through. Pastor Max Lucado focuses on this one Scripture passage from Genesis 50:20..
"As for you, you meant evil against me, but God meant it for good in order to bring about this present result, to keep many people alive."
God Turns Evil into Good
In our lives, we can find those hundreds of little things to complain about.
Or, you could be suffering from a major crisis in your life.
Either way, let's reflect on the verse above. God can use evil for good. He can turn fear into hope.
I know it's sometimes really difficult to trust God completely. We all have the human tendency to try everything but prayer and patience.
But, when we finally lift up that trust, God is there — He's waiting to help us.
As it says in Genesis, God will turn evil into good.
In Christ,
Bob
If you have never made the commitment to receive the love and life-changing experience of Jesus Christ, please take a moment to look at John 3:16.