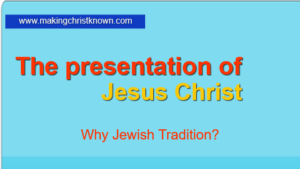 Okay, this may not be the holiday season when you read this Scripture lesson and comments.
But, the direction we receive when we read the Bible is timeless.
With that said, let's take a look today at the "conclusion" of the Christmas story as told in Luke and see Jesus as a little baby.
Later, we'll experience him as Lord and Savior to all who believe in Him!
Please keep this in mind when reading about the beginnings of His amazing life on earth.
Let's see how Jesus was presented as a Jewish baby…
Jesus is Presented at the Temple By Joseph And Mary
And when eight days were completed so that it was time for His circumcision, He was also named Jesus, the name given by the angel before He was conceived in the womb.
And when the days for their purification according to the Law of Moses were completed, they brought Him up to Jerusalem to present Him to the Lord (as it is written in the Law of the Lord: "Every firstborn male that opens the womb shall be called holy to the Lord"), and to offer a sacrifice according to what has been stated in the Law of the Lord: "A pair of turtledoves or two young doves."
And there was a man in Jerusalem whose name was Simeon; and this man was righteous and devout, looking forward to the consolation of Israel; and the Holy Spirit was upon him. And it had been revealed to him by the Holy Spirit that he would not see death before he had seen the Lord's Christ.
And he came by the Spirit into the temple; and when the parents brought in the child Jesus, to carry out for Him the custom of the Law, then he took Him in his arms, and blessed God, and said,
"Now, Lord, You are letting Your bond-servant depart in peace,
According to Your word; For my eyes have seen Your salvation, Which You have prepared in the presence of all the peoples: A light for revelation for the Gentiles, And the glory of Your people Israel."
And His father and mother were amazed at the things which were being said about Him. And Simeon blessed them and said to His mother Mary, "Behold, this Child is appointed for the fall and rise of many in Israel, and as a sign to be opposed— and a sword will pierce your own soul—to the end that thoughts from many hearts may be revealed."
And there was a prophetess, Anna, the daughter of Phanuel, of the tribe of Asher. She was advanced in years and had lived with her husband for seven years after her marriage, and then as a widow to the age of eighty-four.
She did not leave the temple grounds, serving night and day with fasts and prayers. And at that very moment she came up and began giving thanks to God, and continued to speak about Him to all those who were looking forward to the redemption of Jerusalem.
Return to Nazareth
And when His parents had completed everything in accordance with the Law of the Lord, they returned to Galilee, to their own city of Nazareth.
Now the Child continued to grow and to become strong, increasing in wisdom; and the favor of God was upon Him." – Luke 2:21-40 (NASB)
The Jewish Presentation Of Baby Jesus
Something that most of us don't consider often is; Jesus was Jewish! His customs were Jewish, He was a Jew in every aspect of life — including:
going to the temple,
worshiping as a Jew,
obeying the laws of Moses
and yes, making sacrifices to God.
So, we can forget about the pictures we see of the fair skinned, blue eyed Jesus or the black Jesus for the African American culture, or any other conception of what we believe he looked like. He was Jewish.
But, the great news is, He came to earth for all people. He paid the debt we all owe — no matter what our color, creed or status in life. We only have to believe!
The Ceremony — Mary and Joseph and Jewish Tradition
Jesus was taken on the eighth day to follow the Jewish ceremonies including being named and circumcised; a ritual which set aside Jews from the Gentiles.
Jesus was also treated as any other firstborn. So, He was presented to God at the age of one month — redeeming or buying the child back from God by giving an offering.
There were several other events from Jewish tradition mentioned in which Jesus and His "family" would have participated.
But, the main point is that Christ came to live among us, as one of us — Why?
To live,
feel joy,
feel pain,
and to die just as we do.
Why was Jesus Presented in the Temple?
Mary and Joseph carried out these traditions according to Jewish law, even though Jesus was God's Son.
Being the Son of God, why would it be necessary for Jesus' earthly parents to present Him in the way of an ordinary human?
There is but one answer — The reason Jesus was born was to fulfill the law, not to live above it. And He did it without a flaw.
It's interesting to note that Simeon and Anna both knew exactly who Jesus was and what He would do.
Simeon called Jesus God's "salvation" and had never given up on seeing the Christ before he died.
Will you see the Christ before you die? Go to this page to find out.
Merry Christmas — No Matter What the Calendar Says!
Love in Christ
– Bob
If you have never made the commitment to receive the love and life-changing experience of Jesus Christ, please take a moment to Read John 3:16 for more information.