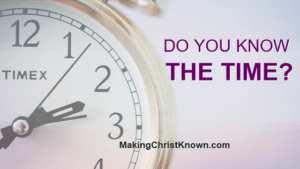 Jesus will return. The Bible tells us so many times but we read over it as just another study lesson.
We covered the first part of this reading in the Bible study about the return of Jesus Christ but these verses tell more of the story.
I've watched and heard of signs of the second coming for the past few years. Our pastor and Sunday school teachers have gotten more and more animate about it. I can hear the urgency in their voices.
So, what does Jesus say about His return. In Mark 13 we'll learn what Christ knew about the day and the hour.
Remaining Watchful – Did Jesus Know the Time of His Return?
"But of that day or hour no one knows, not even the angels in heaven, nor the Son, but the Father alone.
"Take heed, keep on the alert; for you do not know when the appointed time will come.
It is like a man away on a journey, who upon leaving his house and putting his slaves in charge, assigning to each one his task, also commanded the doorkeeper to stay on the alert.
Therefore, be on the alert—for you do not know when the master of the house is coming, whether in the evening, at midnight, or when the rooster crows, or in the morning— in case he should come suddenly and find you asleep.
What I say to you I say to all, 'Be on the alert!'" – Mark 13:32-37
The Time is Coming – Be Watchful
You know, when I read this Scripture I was really puzzled!
I thought, "Maybe Jesus was just telling his disciples that he didn't know because God had promised that no man would know the time."
But, as I read deeper, I discovered that maybe Jesus really didn't know the day and time which seemed strange to me.
When Jesus came to earth, he came as a man in order to experience life as a human with all its frailties. And, as a fellow human, Christ didn't know everything that God knew which confirmed his part in our humanity.
Our Focus is Not about What Christ Knew
Nowadays, the news media would focus on verse 32 for entertainment value only. They would invite "experts" and college professors to debate whether or not Christ was real.
But, this passage is not about whether or not Jesus knew the day or the hour.
What's important is that nobody knows! You or I will not know until the day comes.
Will We Be Ready?
Jesus says for us to "remain watchful" so we will be ready on the day of His return.
This simply means we must be prepared in our hearts and minds.
Studying God's Word and doing our best to live by His instructions is the way to preparedness. And, the best place to start is by reading Mark 13.
This whole chapter is a guide to help us prepare.
First, I know we live in busy times. In fact, you may be planning a major event in your life right now such as:
The birth of a child
a wedding,
buying a home
Or even planning a family vacation.
I'm guilty too! I find myself engrossed in worldly matters, focusing on work and entertainment and… Well, you get the picture.
But, do we place the same measure of importance on the biggest event that will ever happen in our lives?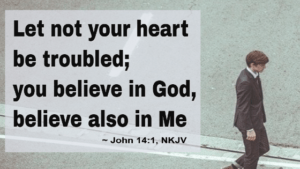 We don't. Even though this event will affect us for all eternity!
The time will come and Jesus will return. So, He is telling us to be alert and watchful.
Many people in this world today completely ignore God. And, I'm not just talking about non-Christians.
Truthfully, we ignore God on a daily basis, don't we? The non-believers have an excuse – we don't!
The deeds we do today (or this very minute) could be our last chance so let's give our hearts and souls to God.
Love in Christ
– Bob
If you have never made the commitment to receive the love and life-changing experience of Jesus Christ, please take a moment to go here.