"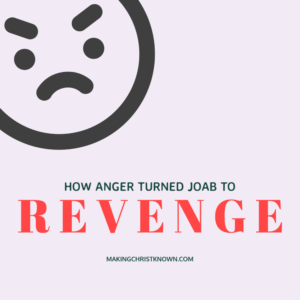 Revenge is a very, very, very dangerous motivation." ~ Willem Dafoe as Clark in Clear and Present Danger 1994
I love the movies, always have.
Growing up at the Midway & Parr Theaters, I experienced comedy, drama, war & music.
I'm sure you did too!
But sadly, the story of how Joab kills Abner is not a movie. It's a true account of how hate and revenge can turn to murder — and turn a person to murder.
Let's read the passage from 2 Samuel and see whether revenge is a "dangerous motivation."
Self-Defense and Revenge — Joab Kills Abner
"And behold, the servants of David and Joab came from a raid and brought a large amount of plunder with them; but Abner was not with David in Hebron, since he had let him go, and he had gone in peace.
When Joab and all the army that was with him arrived, they informed Joab, saying, "Abner the son of Ner came to the king, and he has let him go on his way, and he has gone in peace."
Then Joab came to the king and said, "What have you done? Behold, Abner came to you; why then have you let him go, so that he is already gone?
You know Abner the son of Ner, that he came to gain your confidence, and to learn of your going out and coming in and to find out everything that you are doing."
Joab Murders Abner
When Joab left David's presence, he sent messengers after Abner, and they brought him back from the well of Sirah; but David did not know about it.
So when Abner returned to Hebron, Joab took him aside into the middle of the gate to speak with him privately, and there he struck him in the belly, so that he died on account of the blood of his brother Asahel.
Afterward, when David heard about this, he said, "I and my kingdom are innocent before the Lord forever of the blood of Abner the son of Ner.
May it turn upon the head of Joab and on all his father's house; and may there not be eliminated from the house of Joab someone who suffers a discharge, or has leprosy, or holds the spindle, or falls by the sword, or lacks bread."
So Joab and his brother Abishai killed Abner because he had put their brother Asahel to death in the battle at Gibeon." – 2 Samuel 3:22-30 (NASB)
Joab's Chooses Revenge over God
First, Abner did kill Asahel (Joab's brother) as told in 2 Samuel 2:18-32.
But, Abner acted in self defense.
In Romans 12:19, God promises that He will avenge those who are wronged.
So, Joab clearly went against God's will and took matters into his own hands.
Revenge to Hatred to Forgiveness
I'm sure you've been hurt or betrayed by someone during your lifetime. We all have.
But, did you take revenge? Did you think about it?
Well remember, Jesus said if we even think about doing wrong, we're guilty of that sin.
Yes, we are human. And sometimes, human nature takes the place of what the Bible teaches us.
So, I guess one of the best ways to get over thoughts of revenge is to pray.
Then, let's ask God to take control and allow us to forgive those who make us angry.
That's what Jesus would do, isn't it?
In Christ,
Bob
If you would like to discover how to receive the love and life-changing experience of Jesus Christ, please take a moment to see John 3:16 here.