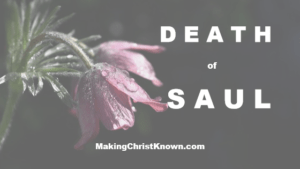 1 Samuel ends with the death of an unlikely king — the very king the people of Israel begged for in 1 Samuel, chapter 8.
And, just as always, God was right in not wanting to grant this wish.
Now, as we move to the end of this book, Saul dies along with his sons;
Abinadab
Malchi-shua
and, David's dear friend, Jonathan.
With that said, let's learn how Saul died — and take a life lesson from his death.
Last Chapter of 1 Samuel – Death of Saul
"Now the Philistines were fighting against Israel, and the men of Israel fled from the Philistines but fell fatally wounded on Mount Gilboa.
And the Philistines also overtook Saul and his sons, and the Philistines killed Jonathan, Abinadab, and Malchi-shua, the sons of Saul.
The battle went heavily against Saul, and the archers found him; and he was gravely wounded by the archers.
Then Saul said to his armor bearer, "Draw your sword and pierce me through with it, otherwise these uncircumcised Philistines will come and pierce me through, and abuse me."
But his armor bearer was unwilling, because he was very fearful.
So Saul took his sword and fell on it.
When his armor bearer saw that Saul was dead, he also fell on his sword and died with him.
So Saul died with his three sons, his armor bearer, and all his men on that day together.
Now when the people of Israel who were on the other side of the valley, with those who were beyond the Jordan, saw that the men of Israel had fled and that Saul and his sons were dead, they abandoned the cities and fled; then the Philistines came and settled in them.
It came about on the next day, when the Philistines came to strip those killed, that they found Saul and his three sons fallen on Mount Gilboa.
They cut off his head and stripped off his weapons, and sent them throughout the land of the Philistines, to bring the good news to the house of their idols and to the people.
They put his weapons in the temple of Ashtaroth, and they nailed his body to the wall of Beth-shan.
Now when the inhabitants of Jabesh-gilead heard what the Philistines had done to Saul, all the valiant men got up and walked all night, and they took the body of Saul and the bodies of his sons from the wall of Beth-shan, and they came to Jabesh and burned them there.
And they took their bones and buried them under the tamarisk tree in Jabesh, and fasted for seven days." – 1 Samuel 31 (NASB)
A Recap – Who Was Saul?
If you & I were to meet Saul in his glory days, we'd most likely come to the same conclusion.
First, he was King of Israel, making him one of the most powerful people in the world. Remember, Israel was God's chosen people — and Saul was their leader.
And, this king had just about everything today's society deems as important:
Stature (he was tall),
Money & power (as mentioned above)
and, if those aren't enough, Saul was very handsome.
So, as Jerry Seinfeld's mom on "Seinfeld" once said of Jerry; "How could anyone not like him."
Tall but Small Saul
I know I shouldn't make lightly about Saul with a rhyme but, the heading helps sum up who Saul was in person and character.
Although he was tall, wealthy and a powerful king, Saul was little in the eyes of God.
As we read all through 1 Samuel, we find that Saul became weak because of sin and his lack of faith in God's power & wisdom.
Are We Like Saul?
This is a question we should ask ourselves.
Okay, maybe we wouldn't try to kill our sons-in-law or put to death those we feared.
But, we do sin — And, we do lose faith on many occasions, don't we?
Before beating yourself up about this remember, we are human. We are not perfect in the flesh.
So, we sin and need forgiveness just as Saul did. But, Saul did not ask!
As Christians, we have a Savior who understands who we are. His name is Jesus Christ.
We are weak at times but we can always rely on Christ to forgive us when we ask and make an effort to change.
Sadly, Saul lived a life of misery without God. Fortunately, we don't have to. Isn't God wonderful?
In Christ,
Bob
If you would like to discover how to receive the love and life-changing experience of Jesus Christ, please take a moment to see John 3:16 here.