Studying the Bible, you'll find many lessons of faith. So, read this Bible lesson of how Joshua obeyed God and won – when the odds were not in his favor.
The conquest of the northern kings in Joshua 11:1-23 shows the great belief by Joshua that God can do anything.
Yes, Joshua is a true man of faith. And, the question is, do we have the faith and willingness to obey in order to overcome the challenges of our lives?
Today, the passage from the Book of Joshua deals with conquest of the northern kings – AKA Palestine. It tells of the battle for northern Canaan. And again, God wins.
The Battle for Northern Canaan – God Wins Against All Odds
Yes, Joshua and his army conquered these lands just as God had commanded them to do. And, they won the battle against insurmountable odds.
The northern kings, when banded together had a great advantage over Israel. But, with faith, they prevailed.
Let's see what this Bible study lesson teaches us about obedience.
Joshua and the Conquest of the Northern Kings
"All the spoil of these cities and the cattle, the sons of Israel took as their plunder; but they struck every man with the edge of the sword, until they had destroyed them.
They left no one who breathed.
Just as the Lord had commanded Moses his servant, so Moses commanded Joshua, and so Joshua did; he left nothing undone of all that the Lord had commanded Moses.
Thus Joshua took all that land: the hill country and all the Negev, all that land of Goshen, the lowland, the Arabah, the hill country of Israel and its lowland from Mount Halak, that rises toward Seir, even as far as Baal-gad in the valley of Lebanon at the foot of Mount Hermon.
And he captured all their kings and struck them down and put them to death." – Joshua 11:14-17 NASB
Why Burn Hazor?
As was the custom, Israel planned to occupy these cities just as any conqueror would do when the war was over.
But, Hazor was burned – mainly because it was a symbol of wickedness which Joshua's army was commanded to destroy.
Just as in the South – No Survivors in Northern Canaan
God had commanded that the army slay all the enemy just as they had in the southern region. This would insure a time of peace for the people of Israel.
Joshua obeyed.
Obedience
It's not surprising that Joshua followed God's commands to the letter. He was a man who believed deeply in obeying the Lord as we have seen in previous chapters.
From the time he made his well-known statement in Joshua 24:15…
"If it is disagreeable in your sight to serve the Lord, choose for yourselves today whom you will serve: whether the gods which your fathers served which were beyond the River, or the gods of the Amorites in whose land you are living; but as for me and my house, we will serve the Lord."
Joshua was faithful and obedient to God from the beginning of his leadership role. He didn't doubt what God could do.
Because of following God's will, Joshua became one of the Bible's greatest leaders.
Control
Did you know that we can control obedience?
No, we can't decide what is done to us from outside forces.
But, we can choose to follow God in any circumstance.
Many times, we face situations which are out of our control. When these situations arise, we have two choices.
One choice is to try and come up with all the answers ourselves;
the second is to get out the Bible and see if God has solutions.
He always has answers to our problems and challenges if we will take the time to listen – and obey His word.
Joshua Defeated the Northern Kings by Faith – Do We Have the Courage to Put Our Faith in Action?
We learned today that Joshua had no trouble following what God commanded him to do. He knew that his army would be victorious as long as God fought with him.
But, what about us?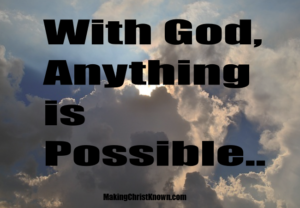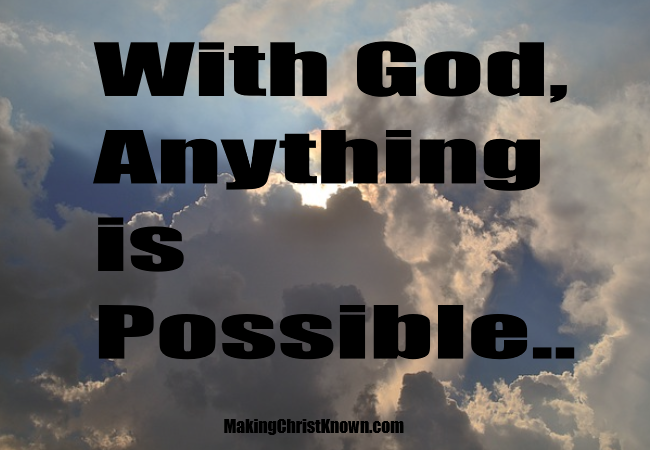 Many times, God commands us to do tasks for Him.
Did he ask you today to raise an army and fight an enemy against overwhelming odds? Most likely not.
But, He might ask us to show our love of Christ to someone who is hurting and needs our help. Or, we may encounter someone at lunch today who has never accepted Jesus as Savior.
When this happens, can we listen to that small voice when it urges us to share our faith?
Yes, we all have fear of stepping outside our comfort zones, don't we? And, we let ourselves withdraw because of the fear of rejection.
These feelings are natural. But, it's possible that Joshua was afraid too! He relied on God's strength to work through his fear.
We can too! And, do you know what? No matter what our situation, God fights along side of us too!
Love in Christ
– Bob
If you have never made the decision to receive the love and life-changing experience of Jesus Christ, please take a moment to read John 3:16 now.