I love listening to Dr. David Jeremiah. Jean & I have visited his church at Shadow Mountain many times through the years.
His sermons are almost timeless as this one certainly is.
During the time of this writing, our world is suffering from a terrible pandemic (COVID-19).
And, I know the situation seems hopeless for many.
But, when you listen to the history behind the hymn, "It is Well with My Soul", written by Horatio Spafford, I'm sure you'll find as I did; God works wonders through suffering and bliss.
Listen, and then reflect on what this family went through — and what God did!
David Jeremiah – History Behind "It is Well with My Soul" Transcript
I was reminded of an example of this message when we were visiting Israel. We were in Jerusalem. I need to tell you, we happened to make a serious mistake.
If you're a bread lover, don't go to Israel during the Passover, cuz there ain't no bread in Israel during the Passover.
I don't eat bread now. But,  back then I used to love bread, and I went for about
five days without any bread.
I said, man is there any place in this city with bread? My friend Steve dick said; "Yeah, there's an American restaurant called the American colony hotel restaurant. Let's go over there to eat."
So, we went there for lunch.
We sat down and gazed at the menu. The maitre d came in and handed us all a small brochure which told the story of the hotel and its restaurant.
The Family of Horatio Spafford
I was shocked to discover the hotel where we were eating belonged to the family of Horatio Spafford!
Horatio Spafford is the man who wrote the words to my favorite gospel hymn, "It is Well with My Soul."
I've often told the story of how that song was written. But, when I read the brochure then handed me, it was filled with facts I had never before heard. So, I thought I would tell you that story again today.
In 1871, Horatio Spafford lived in the Lakeview suburb of Chicago. He was a  young lawyer and his wife  was named Anna. Also,  he had four little girls.
In October of that year, the whole center of the city of Chicago was devastated by a fire. No one knew who started it, but it killed hundreds of people and destroyed whole sections of the city.
All across town, people were wandering homeless and hungry, and the Spaffords were deeply involved in doing what they could do to help families in distress.
But, it was no short-term ministry. And,  two years later after living like that every day, they were totally exhausted from their work.
So, they planned to go to Europe for a time of vacation and rest.
At the last minute, business kept Horatio in town but he took his wife Anna and the four girls
to the ship. They boarded and left harbor.
Late one night during the voyage, another ship rammed into theirs — and their ship sunk within 20 minutes! Only 47 people were rescued from the ship.
Anna was pulled from the water unconscious. She'd been found floating on a piece of debris,  but the four Spafford girls all perished.
Anna got to the shore. She sent a telegram from Paris to her husband. It read; "What should I do?"
She remarked to another passenger that God had given her four daughters and He had taken them away. Perhaps someday, she would understand why.
Horatio Spafford Writes the Words
Horatio was on his way to find his wife and bring her home. The ship's path on which he was traveling crossed the very point where his daughters had been lost.
The captain called him to his cabin and told him. And Horatio, deeply moved, found a piece of paper from the hotel in which he had stayed before the voyage. On this paper, he jotted down the words – It is well with my soul — which has now become one of the world's most famous hymns.
While I was at the hotel, they gave me a copy of that that piece of stationery. It's one of my great treasures in my study.
Well, Horatio got his wife and they went home back in Chicago. They tried to start all over again.
A son was born to them and then another beautiful daughter. Maybe the worst was over. But then, another tragedy — their four-year-old boy died of Scarlet fever.
Inexplicably, the family's church took the view that these tragedies were surely the punishment of a wrathful God, punishing this family for some unspecified sin they had apparently committed.
Horatio Spafford was an elder in the church. He had helped build this church.
But,  rather than being comforted by a healing community, he and his family were asked to leave the church because they perceived them to be evil.
Of all the things in this story, that's the one that just I could not comprehend. We have such
a loving congregation here, and I know that some of you have had some different experiences in churches where you've been. Astoundingly,  how could a church be that cruel to someone who needed them?
Well, in 1881 they decided that they would leave America and begin a new life in Jerusalem.
So, they rented a house in the old city and their goal was to imitate the lives of first century Christians as closely as possible.
Soon, the family was widely known for their love and their service to the needy, as well as for the
devotion to the Scriptures.
Today, the Spafford Children's Center serves Jerusalem and the West Bank by providing health care and educational support to as many as thirty thousand children every year under the leadership of the Spafford's descendants.
Out of the ashes of their tragedy, Almighty God raised up a work we could not possibly comprehend!
Grief into a Blessing for Others
Does that take away the sorrow of the lost children? No, but it shows you that even in the midst of the most difficult things that happen He is working. Yes, He is working.
Anna and Horatio Spafford suffered these testings of faith, but they did not blame God for their suffering. They knew He was in control of all things.
And,  because He could not be defeated, neither could they.
So, their faith allowed them to learn through their testings, and to use their pain to bless others while furthering the gospel.
Remember, God is the same God today as He was then. What happens in these tragedies? If you watch carefully, and listen and look here, there will be something that comes out of them that is for God in His glory.
Now, I do not mean to be insensitive to the hurt and loss of those who experienced this. Nor do I have any ability to tell you all the reasoning behind why it was allowed to happen. But, I do know this — We serve a good God.  We are limited in our ability to understand His heart, but one day when we're seated around the throne we shall ask Him this question.
And, I'm sure His answer will be better than mine has been.
But,  I want you to read with me the Scripture verse for today Let's all stand to our feet here's a verse of
Scripture
to put in your little notebook. And, remember this verse when
somebody asks you. This is what we know for sure. We don't know a lot of things for sure, but we know this for sure. Let's read it out loud…
God is our refuge and strength,
A very ready help in trouble.
Therefore we will not fear, though the earth shakes
And the mountains slip into the heart of the sea;
Though its waters roar and foam,
Though the mountains quake at its swelling pride. Selah – Psalm 46:1-3 NASB
God is our refuge and He is enough for whatever we face.
David Jeremiah's Prayer
Father God thank you for your truth and for this opportunity to reason from the perspective of God.
Concerning a very difficult challenging problem, Lord let us leave here today with the spirit of gratitude. For all the good that you do and let us leave the questions we cannot answer to the
loving heart of a Father, and realize that for all who are called according to His purpose, He is working in every suffering situation in our church right now.
You are working. We may not know in our lives what you were doing, or what you are
accomplishing, or what your purpose was, but we take it by faith in every situation.
You, O God, are working — and that you are our refuge. we can come to you with confidence that, even though we don't know what's going on, you do.
We love you and trust you today. And, we give you glory, and we thank you for the way you have spared our lives in this room from tragedy and hurt and calamity.
So, we pray that you will never allow us to be so interested in the answers to why bad things happen to good people that we forget to be thankful for the things that you do for us. Things we so often take for granted.
And, Lord God, if there's someone here who does not know you in  personal way, would you please help them to understand that you love them and that you want to bring them into your promises we've discussed today are for them if they will just acknowledge their need of God and will come and receive the one who came to them.
So, bless us in these closing moments we pray in Jesus' name; Amen.
Horatio Spafford – It Is Well With My Soul Lyrics
When peace, like a river, attendeth my way,
When sorrows like sea billows roll;
Whatever my lot, Thou has taught me to say,
It is well, it is well, with my soul.
It is well, with my soul,
It is well, with my soul,
It is well, it is well, with my soul.
Though Satan should buffet, though trials should come,
Let this blessed assurance control,
That Christ has regarded my helpless estate,
And hath shed His own blood for my soul.
It is well, with my soul,
It is well, with my soul,
It is well, it is well, with my soul.
I want to invite you, if you don't know Christ, or if you want to join this church or you want to be baptized we have this way we do this here. Just slip out from where you're standing and come forward and we'll be here to greet you and to help you.
The Bible says today is the day of salvation. Get right with him today.
Conclusion: It is Well with My Soul History by Dr. David Jeremiah – And a Call for You…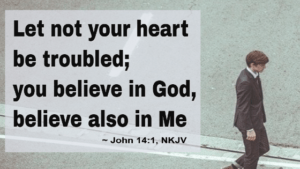 I hope this message by David Jeremiah touched your heart today as it did mine.
Though tragedy certainly comes in our lives, we can seek comfort in the faith which is Jesus Christ.
He does not abandon us and can do great things through the worst of situations.
God is Good!
In Christ,
Bob
If you have never made the commitment to receive the love and life-changing experience of Jesus Christ, please take a moment to read
John 3:16
.
Original video here.