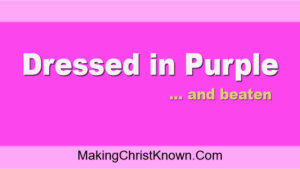 "For God So Loved The World, That He Gave His Only Begotten Son, That Whosoever Believeth In Him Should Not Perish, But Have Everlasting Life" ~ John 3:16

The Easter story tells us how much God loves us. Who of us would sacrifice so much for an undeserving world?
This is why the events of Easter week are so difficult for me to write about.
But, without the sacrifice, there would be no grace for us. I thank God that He made that choice for you and me.
In this Bible study from Mark, Pilate hands Jesus over to the Roman guards who placed a purple robe on His back and  crown of thorns on His head.
Then, they took turns mocking and beating Him.
The Roman Soldiers Mock Jesus
"Now the soldiers took Him away into the palace (that is, the Praetorium), and they *called together the whole Roman [b]cohort.
And they dressed Him in purple, and after twisting together a crown of thorns, they put it on Him; and they began saluting Him: "Hail, King of the Jews!"
And they repeatedly beat His head with a reed and spit on Him, and kneeling, they bowed down before Him.
And after they had mocked Him, they took the purple cloak off Him and put His own garments on Him. And they led Him out to crucify Him." ~ Mark 15:16-20  NASB
Christ and the Roman Soldiers
The Romans were well-practiced in torture so Jesus was led through all kinds of torment and mockery.
The crown of thorns were a symbol showing He was "King of the Jews." And, the color purple normally was worn by the wealthy or royalty.
They Did Not Know..
Little did the soldiers know that Christ would prevail in the end.
We know the rest of the story. From the New Testament, we learned that Jesus not only become the king of the Jews — but the king of all humanity sitting at the right hand of God.
Yes, the crucifixion of Christ is a tough story to read. But,  it is the best way to explain what Jesus went through in order for us to live.
Let's take a moment to think; How often do we worship Him?
Love in Christ
– Bob
If you have never made the commitment to receive the love and life-changing experience of Jesus Christ, please take a moment to read John 3:16.