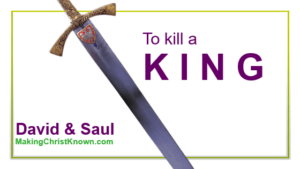 "And forgive us our debts, As we forgive our debtors." ~ Matthew 6:12 (NKJV)
I would venture to say that just about every Christian knows this line from The Lord's Prayer in Matthew.
Sure, we learned many verses such as this one as we read through the Bible.
But, how well do we practice them?
When we study the book of 1 Samuel, we discover that David, although flawed, used God's direction to guide his path.
Let's see why David did not kill Saul when the chance arose..
To Kill a King? David Spares Saul's Life
"Now when Saul returned from pursuing the Philistines, he was told, saying, "Behold, David is in the wilderness of Engedi."
Then Saul took three thousand chosen men from all Israel and went to seek David and his men in front of the Rocks of the Wild Goats.
He came to the sheepfolds on the way, where there was a cave; and Saul went in to relieve himself.
Now David and his men were sitting in the inner recesses of the cave.
The men of David said to him, "Behold, this is the day of which the Lord said to you, 'Behold; I am about to give your enemy into your hand, and you shall do to him as it seems good to you.'"
Then David arose and cut off the edge of Saul's robe secretly.
It came about afterward that David's conscience bothered him because he had cut off the edge of Saul's robe.
So he said to his men, "Far be it from me because of the Lord that I should do this thing to my lord, the Lord's anointed, to stretch out my hand against him, since he is the Lord's anointed."
David persuaded his men with these words and did not allow them to rise up against Saul.
And Saul arose, left the cave, and went on his way.
Now afterward David arose and went out of the cave and called after Saul, saying, "My lord the king!"
And when Saul looked behind him, David bowed with his face to the ground and prostrated himself.
David said to Saul, "Why do you listen to the words of men, saying, 'Behold, David seeks to harm you'?
Behold, this day your eyes have seen that the Lord had given you today into my hand in the cave, and some said to kill you, but my eye had pity on you; and I said, 'I will not stretch out my hand against my lord, for he is the Lord's anointed.'
Now, my father, see! Indeed, see the edge of your robe in my hand!
For in that I cut off the edge of your robe and did not kill you, know and perceive that there is no evil or rebellion in my hands, and I have not sinned against you, though you are lying in wait for my life to take it.
May the Lord judge between you and me, and may the Lord avenge me on you; but my hand shall not be against you.
As the proverb of the ancients says, 'Out of the wicked comes forth wickedness'; but my hand shall not be against you.
After whom has the king of Israel come out? Whom are you pursuing? A dead dog, a single flea?
The Lord therefore be judge and decide between you and me; and may He see and plead my cause and deliver me from your hand."
When David had finished speaking these words to Saul, Saul said, "Is this your voice, my son David?" Then Saul lifted up his voice and wept.
He said to David, "You are more righteous than I; for you have dealt well with me, while I have dealt wickedly with you.
You have declared today that you have done good to me, that the Lord delivered me into your hand and yet you did not kill me.
For if a man finds his enemy, will he let him go away safely?
May the Lord therefore reward you with good in return for what you have done to me this day.
Now, behold, I know that you will surely be king, and that the kingdom of Israel will be established in your hand.
So now swear to me by the Lord that you will not cut off my descendants after me and that you will not destroy my name from my father's household."
David swore to Saul. And Saul went to his home, but David and his men went up to the stronghold." – 1 Samuel 24:1-22 (NASB)
The Caves in the Desert
Just a quick footnote about the Desert  of En Gedi.
Reading more about the area shows there are multiple caves in the area. And, some of the caves can accommodate thousands of people.
The Bible is very accurate about the caves as many can still be seen today.
So, it's no small wonder that David and his men chose this region in which to hide.
Respect for the King – God's Annointed
First, Saul made no secret (in previous chapters) that David was the enemy of the throne.
And, if the king had found David and his men earlier, there's no doubt he would have slaughtered them all!
So, why did David spare Saul's life?
One word comes to mind — Respect.
No matter what had taken place between the king and David, Saul was still the King of Israel.
And, he was appointed by God through Samuel as we studied in chapter 10 of 1 Samuel.
David, being a follower of God, believed God's word was final. He made Saul the king — and David accepted His choice.
With that said, there is one more possible reason for David sparing Saul.
Think about the era in which this was written. If David gave in to impulse and killed the king, wouldn't he be setting himself up for the same fate?
After all, David was chosen to be the next king, wasn't he?
Politics – A Dangerous Word for Christians!
Can you name the two biggest arguments families fight over today? If you guessed religion and politics, you may be right.
Now, I didn't do any research for the statistics, but I know my family has issues with these subjects.
But, what does this have to do with our lesson about Saul and David?
Well, especially in America we are taught to hate the opponent to our chosen official.
What Did Jesus Say?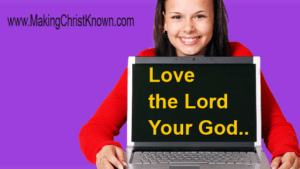 Correct me if I'm wrong but the country (USA) is being torn apart by disagreements of the two major parties.
So, what did Jesus say about following current leaders? He touched on this subject several times but one verse stands out to me…
"And Jesus said to them, "Render to Caesar the things that are Caesar's, and to God the things that are God's." And they were amazed at Him." – Mark 12:17
Jesus didn't worry about "who was taxing who" or "who said what" in politics. He was concerned about the souls of all!
Although we may not agree with the person holding the position of leadership at the time, we are to get past our feelings and opinions as Christians.
We are not bound by the governments of this world — We are bound by the Word of God.
So, we can either complain about our leaders' decisions (as I do many times), or we can go about the business of God. That business is to Love God, love others and make new disciples.
These three commandments are difficult to share when we argue.
Let's pray that we can be that light in the midst of hatred and division.
David did — And, it brought him to greatness!
Love in Christ,
Bob
If you would like to discover how to receive the love and life-changing experience of Jesus Christ, please take a moment to see John 3:16 here.