After the battle of Jericho and the sins of Achan are uncovered, God gives Joshua another chance to defeat the city of Ai.
This becomes a battle to remember.
So, let's learn some valuable lessons about faith and giving up too soon.
This study from Joshua 8 tells about the destruction of Ai, and Joshua's second chance.
Destruction of Ai – Winning the 2nd Time Around From Joshua 8:1-29
Remember what happened when Israel disobeyed God and faced Ai for the first time? The sin of Achan caused their defeat, because they no longer had God on their side.
Now it's a different situation.
Joshua is confident and God is leading His people once again – this time to victory.
Promise from God – The City of Ai
Now the Lord said to Joshua, "Do not fear or be dismayed.
Take all the people of war with you and arise, go up to Ai; see, I have given into your hand the king of Ai, his people, his city, and his land.
You shall do to Ai and its king just as you did to Jericho and its king; you shall take only its spoil and its cattle as plunder for yourselves.
Set an ambush for the city behind it." – Joshua 8:1-2 NASB
Lessons from Jericho
When Joshua attacked Jericho, Achan disobeyed the order God had given about the total destruction of the city.
This seemingly minor detail of Achan keeping some of the gold, and other items cost Israel greatly when they went to battle against Ai.
What Lessons?
We can learn two simple lessons from the wars on Jericho and Ai.
When we displease God; or go against His will for our lives – we need to admit these sins right away.
As soon as we confess the sin, let's put our attention back on God so that we can deal with the problem. Then we'll move forward just as Joshua did.
The main point of this piece of Scripture is that our experiences, good or bad should strengthen us for the the next time. This is what God wants for us.
God wants us to keep learning from our mistakes – and to try again.
Joshua teaches us this when he keeps his faith and moves in the second time. He was assured of victory by God. And, he knew  the second battle would be won – before it was ever fought.
How about Us?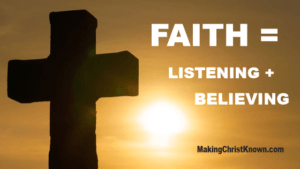 Do we sometimes decide to give up when God wants us to try again? Many times, we find that the best way to lose is to quit too soon.
Winston Churchill uttered these simple, yet famous words;
"Never, never, never, never give up.".
Just remember, God still has plans for you and me.
Love in Christ
– Bob
If you would like to get information about how to receive the love and life-changing experience of Jesus Christ, please take a moment to read John 3:16 now.