I also wondered what Gideon's ephod represented when I began this lesson. I'll share what I found.
However, the study is more about putting God first than about an object.
The Story of Gideon's Ephod – The Top of God's List
Are we placing God at the top of our priority list?
Today we will study Judges 8:22-35 about wealth, power, and worship. Gideon made an ephod (explained below) from gold the people of Israel gave him.
Like many of us, he became obsessed with wealth, which led to envy, which led to idolatry.
Gideon, however, put God first in choosing a leader.
Do we?
Judges and the Ephod of Gideon
Then the men of Israel said to Gideon, "Rule over us, both you and your son, also your son's son, for you have delivered us from the hand of Midian."
But Gideon said to them, "I will not rule over you, nor shall my son rule over you; the Lord shall rule over you."
Yet Gideon said to them, "I would request of you, that each of you give me an earring from his spoil." (For they had gold earrings, because they were Ishmaelites.)
They said, "We will surely give them." So they spread out a garment, and every one of them threw an earring there from his spoil.
The weight of the gold earrings that he requested was 1,700 shekels of gold, besides the crescent ornaments and the pendants and the purple robes which were on the kings of Midian, and besides the neck bands that were on their camels' necks.
Gideon made it into an ephod, and placed it in his city, Ophrah, and all Israel played the harlot with it there, so that it became a snare to Gideon and his household. – Judges 8:22-27 NASB
What is an Ephod?
This was my first question when I read this Scripture so, as a curious person, I looked it up online.
Dictionary.Com® explains that an ephod is:
"a richly embroidered, apron like vestment having two shoulder straps and ornamental attachments for securing the breastplate, worn with a waistband by the high priest."
Beautiful, But Should It Be Worshipped?
In my mind, this is something similar to what a Roman soldier would wear as armor, except it's gold.
Ephods were probably a spectacular sight for the people and a symbol of power and wealth.
It is fine to admire something majestic and beautiful, but the Israelites began to place more importance on wealth, which led to idolatry.
The People Want a King
Although we are still in Judges, the people want Gideon to rule over them as their king.
It is evident that this is not going to happen. This is a dark time for Israel with sin at the center of the problem.
Their pattern is the same – they get into trouble and beg God for help. He sends a judge to lead them out. They fall away.
It's an endless pattern. We know what will happen – they didn't.
"In those days Israel had no king: everyone did as he saw fit." – Judges 17:6
Who's in Charge?

Having led Israel out of the hands of the Midianites, there is no doubt that Gideon could have been king.
However, Gideon knew that it was not the time for a king. God was the ruler – he was the channel.
Gideon Followed God Till the End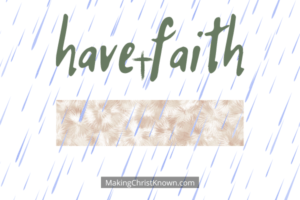 The one thing that impressed me most about Gideon was the fact that he never stopped putting God first.
As well as being a competent leader, Gideon followed the Lord faithfully.
Can we make God a priority today? Let's make an effort!
Love in Christ
– Bob
Interested in learning more about the love and life-changing experience of Jesus Christ? Read John 3:16 here.
I hope you found inspiration from Gideon's ephod and will make that effort to put God first in your life. We can all learn from this Bible passage.