The Voice of God – Speaking to Israel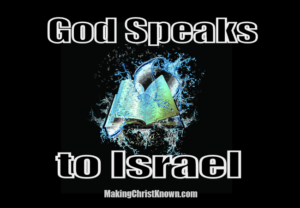 In this Bible study lesson from Exodus 20, we examine how God spoke to Israel in a loud voice along with a light show for effect.
He needed to show the people His ultimate power in this case.
But, sometimes He speaks with a faint whisper.
Yes, God does speak.
He spoke to people like Moses all through the Old Testament.
And, we can hear what He says to us when we pray and be still.
But, do we listen when He speaks?
God Speaks to Israel – Listen to the Voice of God
Then the Lord said to Moses, "Thus you shall say to the sons of Israel, 'You yourselves have seen that I have spoken to you from heaven.
You shall not make other gods besides Me; gods of silver or gods of gold, you shall not make for yourselves.
You shall make an altar of earth for Me, and you shall sacrifice on it your burnt offerings and your peace offerings, your sheep and your oxen; in every place where I cause My name to be remembered, I will come to you and bless you.
If you make an altar of stone for Me, you shall not build it of cut stones, for if you wield your tool on it, you will profane it.
And you shall not go up by steps to My altar, so that your nakedness will not be exposed on it.' – Exodus 20:22-26 NASB
The Voice of God
Many times people (I'm including myself) don't listen to what God is trying to tell them. So, He speaks in many different ways throughout the Bible.
Sometimes it's a whisper. Maybe He talks in conversation. And sometimes, He roars in a loud, thunderous voice.
Why?
Well, it seems that God speaks according to the circumstances. This is much the same as you and me.
In the verses from Exodus above, God displays a mighty show of sound and light to tell people who He is.
Does God Speak to Us?
In a word, yes. God does speak to us.
Through prayer, God hears everything we tell Him. And, He hears every thing we ask of Him.
"If God is Speaking – Why Don't I Hear Him?
The problem I have is that I don't always listen for the answer when I pray.
Basically, it's tough to hear an answer when we are always talking.
3 Prayer Answers from God
God normally has three possible answers to prayer…
Action Now – We see immediate and definite results from a "yes" answer.
No – God does not always answer affirmative because the action is not in our best interest. Nor, is it within His will for us.
Wait – Sometimes we ask God for things at the wrong time. His answer may still be yes or no. But, He waits because there are other issues or other people involved who will be affected by the answer.
So Yes, God Does Speak
[easyazon_image align="left" height="160″ identifier="0849942136″ locale="US" src="https://makingchristknown.com/wp-content/uploads/2018/03/41yxWaj3k2BL.SL160.jpg" tag="bobpardphot-20″ width="104″]God does not always speak in a thunderous voice. But, sometimes He speaks in a whisper. He sometimes speaks so low that we have to strain our ears in order to hear Him.
Finally, it may not be a voice at all.
Because we have the Spirit of Christ within us, a tugging at the heart could be God speaking to us. And, we can either ignore it or obey. God gave us the Spirit but also gave us free will.
In fact, God could be speaking to us right now.
Are we listening? We have a choice to make.
Love in Christ
– Bob
Have you thought about following Jesus but you're not sure how to accept Him? To discover more about the love and life-changing experience of Jesus Christ, please visit the verse, John 3:16 to learn how.