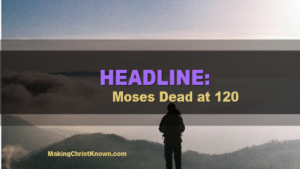 The greatest prophet in the Bible, Moses dies at age 120 years old.
But, he never enters the area known as the promised land – a place he spent a good portion of his life leading his people to.
This Scripture reading from Deuteronomy 34 shows that even the best people make mistakes – and pay for them.
Today, we'll explore the final verses of Deuteronomy announcing the death of Moses.
And, we'll discover a new leader for Israel.
Moses Dies – Does Not Enter the Promised Land
Considered the greatest prophet in the Bible, Moses began as one who was "slow of speech".
He was just a man who had no confidence and no prospects for the future.
But, God used him in a mighty way.
We learned in Exodus and Deuteronomy that God can take anyone and turn them into a great leader. But, it only works out if & when they follow His direction.
So, why did Moses die without being allowed to set foot in the promised land?
Read on ..
The Death of Moses
Now Moses went up from the plains of Moab to Mount Nebo, to the top of Pisgah, which is opposite Jericho.
And the Lord showed him all the land, Gilead as far as Dan, and all Naphtali and the land of Ephraim and Manasseh, and all the land of Judah as far as the western sea, and the Negev and the plain in the valley of Jericho, the city of palm trees, as far as Zoar.
Then the Lord said to him, "This is the land which I swore to Abraham, Isaac, and Jacob, saying, 'I will give it to your descendants'; I have let you see it with your eyes, but you shall not go over there."
So Moses the servant of the Lord died there in the land of Moab, according to the word of the Lord.
And He buried him in the valley in the land of Moab, opposite Beth-peor; but no man knows his burial place to this day.
Although Moses was one hundred and twenty years old when he died, his eye was not dim, nor his vigor abated.
So the sons of Israel wept for Moses in the plains of Moab thirty days; then the days of weeping and mourning for Moses came to an end.
Now Joshua the son of Nun was filled with the spirit of wisdom, for Moses had laid his hands on him; and the sons of Israel listened to him and did as the Lord had commanded Moses.
Since that time no prophet has risen in Israel like Moses, whom the Lord knew face to face, for all the signs and wonders which the Lord sent him to perform in the land of Egypt against Pharaoh, all his servants, and all his land, and for all the mighty power and for all the great terror which Moses performed in the sight of all Israel. – Deuteronomy 34:1-12 NASB
The Bible's Greatest Prophet – Dead at Age 120
This reading marks the end of an era – a time when Israel took the first steps toward becoming a nation.
A note to this story comes from the final verses. It simply states:
"Moses, whom the Lord knew face to face.."
Can you imagine meeting God face to face? Of course, we all will meet Him one day. But, Moses experienced a friendship with the Almighty.
And, God wants that same relationship with us. Imagine!
No Matter How Good
These final days also mark a time of sadness.
Moses, although he brought the people from slavery in Egypt by following God, he was not allowed to enter the land that was promised.
Moses, the man who spoke to God face to face, remains known as the greatest prophet Israel has ever experienced.
Yes, he was the best of the best – so to speak.
So, why did God deny him passage to the promised land?
Disobedience
With all he did for the sake of his people, Moses disobeyed God (Numbers 20:12). And, for this he was forbidden to lead Israel to their final destination.
A Good Person
Does this seem fair? Well, in God's view it is.
You see, we can not "do enough" or be "good enough" on our own to live up to the standard of God.
This is why we need Christ.
He is the one who died for our flaws and inability to be perfect.
Through Jesus, we have a redeemer to stand in and speak for us.
Discipline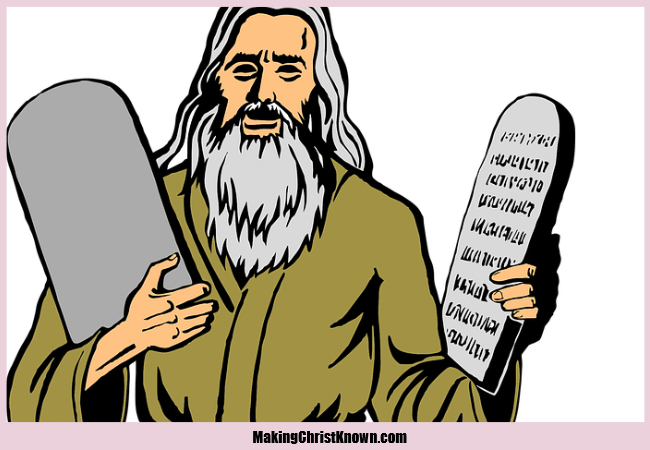 Even Christians are disciplined when they sin.
Disobedience has consequences.
And, our only choice is how we react or respond to those consequences.
Moses did not scream and stomp his feet when God punished him.
Instead, he followed in obedience because he respected God's judgment.
Even so, he knew that he was still loved.
Question, can we respond as Moses did when we are disciplined by God?
Love in Christ
– Bob
Learn more about Christ's' gift to you, please take a moment to read this now.