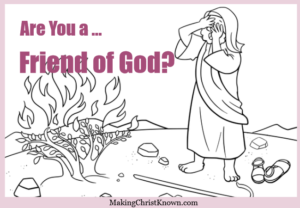 Was Moses more special than the people of Israel? Was he more favored than you and I? Learn the answer to these questions and find why Moses was a friend of God in this Bible study from Exodus.
Moses – Friend of God From Exodus 33:1-23 – 3 Questions…
Yes, Moses became God's friend. And, he talked with God on occasion.
But, why was Moses allowed special privileges not extended to the people of Israel?
Take a look at these three questions to consider..
Was Moses really that talented?
Was he a perfect man?
And finally, what does it take for us to become a friend of God and have a personal relationship with Him?
God's Friend – Moses
"The Lord said to Moses, 'I will also do this thing of which you have spoken; for you have found favor in My sight and I have known you by name..'" – Exodus 33:17 NASB
Moses – Face to Face with God
The Scripture tells us that Moses and God spoke together, just as you and I would talk as friends. Moses was the only person of his time who was extended this honor and privilege.
Was Moses Really That Special?
In a word, no. Moses was just a person. But, God chose him to lead His people from slavery in Egypt to the Promised land.
If you go back and read earlier verses, you'll find that Moses was..
slow of speech
not very confident
and besides that – a murderer!
God did not let these things influence His decision. One of the most valuable assets Moses had was that he depended completely on God and was willing to follow.
Can We Be a Friend of God?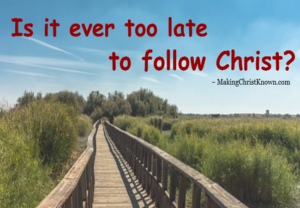 Yes, we can! If we will only turn our lives over and let God help with everyday situations, we can be His friend too.
Just as Jesus' disciples were considered His friends, He will allow us into that inner circle if we trust as Moses did.
Can We Talk to God?
Again, yes. We can talk directly to God through prayer and by reading Scripture.
Does God always answer prayers in the way we want? No, but He will answer according to what is in His will for us.
Who Is Our True Friend?
Christ loved us so much that He gave His life for us. What better friend could we ask for?
We receive this relationship freely from God. When we call on Jesus to be our Savior – We become His friend.
Yes, I am a friend of God. And, so are you!
Love in Christ
– Bob
If you would like to discover Christ's' free gift to you, please take a moment to read John 3:16.