The Bible study lesson today about the prayer of believers in Acts 4 teaches a guidebook to prayer with three points we can use.
I'll list these three prayer points below but we'll read the Scripture passage first.
First, the situation arises right after Peter and John were arrested for speaking about Christ to the people.
So, just as Peter and John were bold in their words, the people made a bold prayer (below) which confirmed their belief in Jesus Christ.
Now, lets look through these verses and learn how John and Peter boldly prayed after the religeous leaders warned them "to speak no longer to any man in this name."
Here's what happened next..
Prayer of Believers in Acts – The Bold Believer's Prayer
When they had been released, they went to their own companions and reported all that the chief priests and the elders had said to them.
And when they heard this, they lifted their voices to God with one accord and said, "O Lord, it is You who made the heaven and the earth and the sea, and all that is in them, who by the Holy Spirit, through the mouth of our father David Your servant, said,
'Why did the Gentiles rage,
And the peoples devise futile things?
'The kings of the earth took their stand,
And the rulers were gathered together
Against the Lord and against His Christ.'
For truly in this city there were gathered together against Your holy servant Jesus, whom You anointed, both Herod and Pontius Pilate, along with the Gentiles and the peoples of Israel, to do whatever Your hand and Your purpose predestined to occur.
And now, Lord, take note of their threats, and grant that Your bond-servants may speak Your word with all confidence, while You extend Your hand to heal, and signs and wonders take place through the name of Your holy servant Jesus." – Acts 4:23-30 NASB
Sharing Christ with No Fear!
Remember, this is a time when preaching Jesus' message was very risky.
The religious leaders of the day had not long ago called for the death of Christ. And, they were intimidated by the now "Risen Christ" message.
Yes, the people prayed to God during this time of uncertainty.
But, the subject of this lesson is how they prayed.
A  Simple Guidebook for Prayer
In Matthew, we looked at the Lord's Prayer and decided it is a wonderful guide to go by when we pray. It still is!
I'm not going to discount the praying Jesus taught to the disciples; it is recited in churches all over the world — with good reason.
But, I do want to focus on the three steps these new Christians used in their prayer which made it a little different.
Prayer of Courage
The prayer in these verses reflect bravery from the people who truly believe in Christ.
Here are the 3 steps they took to a prayer of courage:
1. They gave praise to God for the earth, the sea and everything they had.
2. They stated their problem.
3. Instead of asking God to remove the problem, they asked Him to help them deal with the situation they were in.
Are Our Prayers Selfish?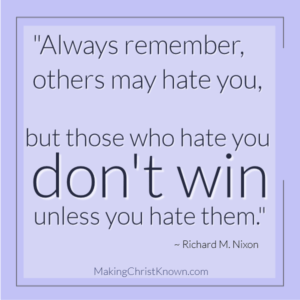 When I pray, I normally ask for God to take away the circumstance I'm in, do you?
I'm guessing your answer is yes; at least in some cases.
If so, is this a selfish way to pray?
Maybe. It's okay to ask God to remove the problem but He may or may not grant that wish.
God works on His own time. He knows the future; we don't.
And, He is seldom in a hurry.
So, it might be better to pray for strength and guidance to get us through rather than asking God for removal.
Love in Christ
– Bob
If you would like to discover more about the love and life-changing experience of Jesus Christ, please take a moment to see John 3:16.
I hope this prayer of believers in Acts 4 helps you with your prayer life. It certainly opened my eyes. So, let's give praise to God and thank Him. Then, we can ask Him to help us get through the difficulties of life. Our strength fades; but God's never does! Thank you for reading and please come back often.