If this were a movie, it would hold your curiosity.
It did hold mine.
In this Bible study lesson from 1 Samuel, we'll look at how the Lord called Samuel to become a great prophet.
And, most importantly, when Samuel heard the voice of God, he listened!
And the rest, as they say, is history.
Discover How and When Samuel Heard the Voice of God – Samuel Becomes a Prophet
Note: I'm including all of chapter 3 in this post because it gives the significance of the calling from God, and how Samuel became a prophet of Israel.
Let's read it together…
"Now the boy Samuel was ministering to the Lord before Eli. And word from the Lord was rare in those days, visions were infrequent.
It happened at that time as Eli was lying down in his place (now his eyesight had begun to grow dim and he could not see well), and the lamp of God had not yet gone out, and Samuel was lying down in the temple of the Lord where the ark of God was, that the Lord called Samuel; and he said, "Here I am."
Then he ran to Eli and said, "Here I am, for you called me."
But he said, "I did not call, lie down again." So he went and lay down.
The Lord called yet again, "Samuel!" So Samuel arose and went to Eli and said, "Here I am, for you called me."
But he answered, "I did not call, my son, lie down again."
Now Samuel did not yet know the Lord, nor had the word of the Lord yet been revealed to him.
So the Lord called Samuel again for the third time. And he arose and went to Eli and said, "Here I am, for you called me."
Then Eli discerned that the Lord was calling the boy. And Eli said to Samuel, "Go lie down, and it shall be if He calls you, that you shall say, 'Speak, Lord, for Your servant is listening.'"
So Samuel went and lay down in his place.
Then the Lord came and stood and called as at other times, "Samuel! Samuel!" And Samuel said, "Speak, for Your servant is listening."
The Lord said to Samuel, "Behold, I am about to do a thing in Israel at which both ears of everyone who hears it will tingle.
In that day I will carry out against Eli all that I have spoken concerning his house, from beginning to end.
For I have told him that I am about to judge his house forever for the iniquity which he knew, because his sons brought a curse on themselves and he did not rebuke them.
Therefore I have sworn to the house of Eli that the iniquity of Eli's house shall not be atoned for by sacrifice or offering forever."
So Samuel lay down until morning. Then he opened the doors of the house of the Lord.
But Samuel was afraid to tell the vision to Eli.
Then Eli called Samuel and said, "Samuel, my son." And he said, "Here I am."
He said, "What is the word that He spoke to you?
Please do not hide it from me. May God do so to you, and more also, if you hide anything from me of all the words that He spoke to you."
So Samuel told him everything and hid nothing from him. And he said, "It is the Lord; let Him do what seems good to Him."
Thus Samuel grew and the Lord was with him and let none of his words fail.
All Israel from Dan even to Beersheba knew that Samuel was confirmed as a prophet of the Lord.
And the Lord appeared again at Shiloh, because the Lord revealed Himself to Samuel at Shiloh by the word of the Lord." ~ 1 Samuel 3:1-21 NASB
The Ark of the Covenant
Yes, this is the ark of God which displayed such power in the crossing of the Jordan; along with multiple miracles in the Old Testament.
It remained in the most sacred room of the tabernacle. Only the high priest was allowed in once per year.
A side note is; the priest would have a rope tied around his waist and a bell to his ankle in case he died. This way, he could be pulled out without others entering the Holy of Holies.
Samuel most likely slept in one of the small rooms located in the outside court. This room was very close to the ark.
Why Samuel? God Chooses Faith Over Experience
In this passage (vs. 8-9), God calls to the young boy Samuel, not Eli. Why?
Of course, Eli was already a respected priest and Samuel "did not yet know the Lord". So, why did God call him?
The simple answer is faith. God does not always follow our logic.
In fact, why did Jesus choose fishermen and even a tax collector for His disciples? Why not the Pharisees or the Sadducees?
So, we need to be prepared for God to call anyone, anywhere to do His work.
The scary part is, He may even call us!
Eli's House and the Wrath of God
We covered the reasons for this wrath in chapter 2 of 1 Samuel. You can read it here.
Yes, Eli's life was dedicated to doing God's work. But, with that job came responsibility.
He was charged with overseeing the worship of God by Israel.
Eli was a good man. The irony is; he didn't take care of what was happening in his own home. And, God was watching.
We Serve God Too – Don't We?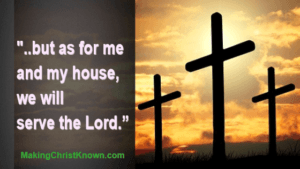 I'm sure that, since you are going through the Bible with me, you have a desire to follow Christ and do the work of God.
But, although God should be our first priority, we shouldn't neglect our families.
There's a thin line between working for the Lord and working for our own personal feeling of importance.
Sure, we need to dedicate time to God. But, if we become obsessed with the mission, our families will suffer.
Christ said:
"A new commandment I give to you, that you love one another, even as I have loved you, that you also love one another." ~ John 13:34
Let's not ever forget to love others – this includes our families too!
Love in Christ,
Bob
I hope this Bible lesson telling about when Samuel heard the voice of God will inspire you to work for Him – but also to keep your family close. I'd love to hear your comments below about how God is working in your life.
Finally, if you would like to discover how to receive the love and life-changing experience of Jesus Christ, please take a moment to see John 3:16 here.