Bible Study Lesson; Matthew 21:1-11 – Easter Story & Palm Sunday

In these Matthew study verses about the first Easter Jesus rides a donkey triumphantly into Jerusalem.
This is the day Christians now refer to as Palm Sunday.
For many churches, Easter Cantatas (musicals) are sung by joyous choirs.Their voices lift up praise just as the people waved their palm branches when Jesus made His famous ride.
But, little did those people know the Palm Sunday donkey ride was the beginning of a timeline leading to the crucifixion of Christ from the Easter Story.
Beginning of Easter – On Palm Sunday, Jesus Rides a Donkey into Jerusalem, the Crowd Shouts Hosanna!
Most of the crowd spread their coats in the road, and others were cutting branches from the trees and spreading them in the road.
The crowds going ahead of Him, and those who followed, were shouting,
"Hosanna to the Son of David;
Blessed is He who comes in the name of the Lord;
Hosanna in the highest!"
When He had entered Jerusalem, all the city was stirred, saying, "Who is this?"
And the crowds were saying, "This is the prophet Jesus, from Nazareth in Galilee." – Matthew 21:8-11 NASB
Jesus is Treated Like a King on Palm Sunday – The Humble King
This is the way Jesus rode into Jerusalem. Christ was recognized on this day as a king, the "Son of David".
And, as they waved their palm branches, they shouted "Hosanna".
The People Did Not Know..
But, the people were expecting a totally different chain of events than what really happened.
They thought Jesus had come to start an uprising against the Romans who had taken over and were occupying Jerusalem.
Christ had a different idea. Jesus was to die in the city.
The Crowd Shouts "Hosanna" as Christ Humbles Himself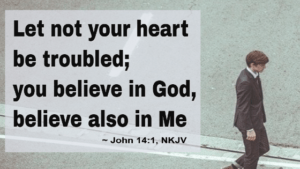 The donkey symbolizes the humility of Jesus.
Through all His power and glory Jesus humbled himself when He entered the city to the cheers of the crowd.
These crowds of people were shouting "Hosanna!" which means loosely; "Save us!". Later, many of these same people would cry, "Crucify him!".
We now celebrate this day of Jesus' famous ride as Palm Sunday which is held each year the Sunday before Easter.
Jesus will suffer a terrible death shortly after this ride.
And, His death on the cross and resurrection on the third day will mean "Hosanna!" for us!
So, as Jesus said in John 14, "Let not your heart be troubled."
A bright, new day is coming!
Love in Christ
– Bob
If you would like to know how to receive the love and life-changing experience of Jesus Christ, please take a moment to read John 3:16 for more information.