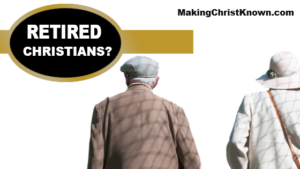 Do Christians ever really retire?
Before you answer "yes", read the passage from Joshua 13 where God comes to him in his old age.
Then, decide what "unconquered lands" you still have left in your Christian life…
In this passage from the book of Joshua, our hero is growing old.
But, God tells him there are still lands waiting to be taken by Israel.
So, Joshua does not retire from God's work.
We can learn a strong lesson from him about leaving things undone. What do we have left to do? Or, should we retire and leave it to the "younger generation?"
In His Older Years – Joshua and the Unconquered Land
"Now Joshua was old and advanced in years when the Lord said to him, 'You are old and advanced in years, and very much of the land remains to be possessed.
This is the land that remains: all the regions of the Philistines and all those of the Geshurites' …" – Joshua 13:1-2 NASB
The Young and the Restless?
In our times, we'd agree that Joshua had earned his rest. From conquering the city of Jericho, to defeating the 5 Amorite kings, this man obeyed God and accomplished amazing deeds.
So, time for Joshua to retire, right? Not yet!
Reading the Scripture above, we know that Joshua was definitely not a young man anymore. Did God allow him to retire? No.
He showed Joshua that there was still much work left for him to do. And, there were still lands to be taken – as promised to Moses.
Young Vs. Old – Are We Too Old to Act as Christians?
Yes, it's true that younger people have more energy and drive. They can jump in and do things that the body might not allow an older person to do.
But, never discount the value of the older person (even if you are one). In reality, they posses a wisdom, and many times proven ways of accomplishing tasks that younger people have yet to learn.
In fact, I'll say you have some special talent or skill to use for God. And, this ability does not require a "young body" to do.
Is something coming to mind as I speak? I thought so!
Should Christians Retire?
Again, I believe God plainly answered this question when he spoke to Joshua. He knew Joshua could still do the work He needed.
And, God expected results from this "retired" person.
As Christians, we never completely retire from doing God's work. There will always be jobs we can do, even if our bodies are not as strong as they once were.
The Unconquered Lands
Israel had more battles to fight before God would allow them to rest in the promised land.
We have more Christian "battles" to fight too.
These might include:
Going, or either helping out with missions to other states or other countries,
volunteering for a reading program
helping with the church nursery
giving someone a thought of encouragement
or even talking about Christ on Facebook.
You know your talents and strengths better than me. And, I'll wager that you are being called by God to do something for Him right now.
Don't let age stand in your way – Just do it!
Love in Christ
– Bob
If you have thought about receiving the love and life-changing experience of Jesus Christ, please take a moment to read John 3:16 now.