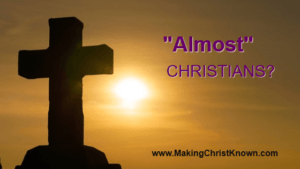 When doing something for God, is "almost" good enough?
What if Joshua would have thought this way?
What happens when we think this way?
The study of this passage from Joshua 14:6-15 plainly shows that Joshua did not stray from God's plan.
Just as he had been faithful all those times in the past, he divided the land exactly the way God commanded.
Joshua Divides the Promised Land – Caleb Inherits Hebron
"Then the sons of Judah drew near to Joshua in Gilgal, and Caleb the son of Jephunneh the Kenizzite said to him, "You know the word which the Lord spoke to Moses the man of God concerning you and me in Kadesh-barnea.
I was forty years old when Moses the servant of the Lord sent me from Kadesh-barnea to spy out the land, and I brought word back to him as it was in my heart.
Nevertheless my brethren who went up with me made the heart of the people melt with fear; but I followed the Lord my God fully.
So Moses swore on that day, saying, 'Surely the land on which your foot has trodden will be an inheritance to you and to your children forever, because you have followed the Lord my God fully.'
Now behold, the Lord has let me live, just as He spoke, these forty-five years, from the time that the Lord spoke this word to Moses, when Israel walked in the wilderness; and now behold, I am eighty-five years old today.
I am still as strong today as I was in the day Moses sent me; as my strength was then, so my strength is now, for war and for going out and coming in.
Now then, give me this hill country about which the Lord spoke on that day, for you heard on that day that Anakim were there, with great fortified cities; perhaps the Lord will be with me, and I will drive them out as the Lord has spoken."
So Joshua blessed him and gave Hebron to Caleb the son of Jephunneh for an inheritance.
Therefore, Hebron became the inheritance of Caleb the son of Jephunneh the Kenizzite until this day, because he followed the Lord God of Israel fully.
Now the name of Hebron was formerly Kiriath-arba; for Arba was the greatest man among the Anakim. Then the land had rest from war." – Joshua 14:6-15 NASB
Remember Caleb?
Caleb was one of the original spies who went bravely across the river after Moses took them (with God's direction) to the rim of the promised land.
Faith
Even though Caleb was well aware of the the nation of giants living in the area he was promised, he had faith that God would overcome, just as he had in Egypt and in Jericho.
.. and He did!
We Need Faith Too!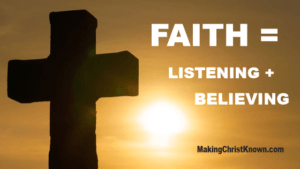 Just as Caleb trusted God to do what He promised, we need to keep our faith – and, not rely on things we've done in the past to accomplish our goals.
Caleb "almost" conquered Hebron when it belonged to the Anakites but almost is not good enough.
If he had stopped there, Caleb could have rested on the wrong side of the Jordan, reminiscing about the "good old days" when he was a famous spy for Israel.
Instead, he lived out his life in the "land of milk and honey" God promised him, because he completed what God asked him to do.
Dividing the Promised Land – Division of Judah
These verses from Joshua continue to show the division of the promised land.
Specifically, God is instructed Israel on exactly how Judah was to be divided – no exceptions or excuses.
The Division of Judah
"And Caleb said, 'The one who attacks Kiriath-sepher and captures it, I will give him Achsah my daughter as a wife.'
Othniel the son of Kenaz, the brother of Caleb, captured it; so he gave him Achsah his daughter as a wife.
It came about that when she came to him, she persuaded him to ask her father for a field. So she alighted from the donkey, and Caleb said to her, 'What do you want?'
Then she said, 'Give me a blessing; since you have given me the land of the Negev, give me also springs of water.'
So he gave her the upper springs and the lower springs." – Joshua 15:16-19 NASB
The Borders of Judah
Caleb's nephew, Othniel came through with conquering Kiriath-sepher – a feat we can easily look over when reading these long Scripture verses. They give an almost never-ending list of border instructions for Judah.
A P.S. Othniel later would become a Judge of Israel as we will see in later studies.
If you remember from the last passage, Caleb was blessed because he obeyed God's command to the letter.
Now that blessing is passed down to another generation in his family.
Our Blessings?
When we obey God's will for our lives we receive a blessing too.
It may not always be the one we expect. But, this blessing can be handed down to our families for generations to come.
So, What about Us? Are We One of Those "Almost" Christians or More Like Caleb?
When God asks us to do a job for Him, do we always give it our all? Or, do we do just enough to get by? Do we quit when the going gets tough?
Remember, God gave us everything – even His Son on the cross! Let's not become "almost" Christians who follow only when the road is easy.
Love in Christ
– Bob
If you would like to find out more about receiving the love and life-changing experience of Jesus Christ, please take a moment to read John 3:16.