Bible Study Lessons: Matthew 21:28-32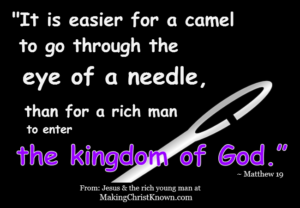 This parable of the two sons in Matthew is about earnestly following God and doing the work Christ laid out for us.
The sons had different ways of answering their father just as we do.
See how two brothers answered a call differently and which was a true follower.
A story of obedience. Israel made covenants with God time after time – and then broke them as we have been studying in Exodus and Judges.
How about our promise to follow Christ – do we measure up?
Let's look at the parable of the two sons and decide which child of God we want to be.
Jesus Tells the Parable of the Two Sons – Believing
"But what do you think?
A man had two sons, and he came to the first and said, 'Son, go work today in the vineyard.'
And he answered, 'I will not'; but afterward he regretted it and went.
The man came to the second and said the same thing; and he answered, 'I will, sir'; but he did not go.
Which of the two did the will of his father?".
They said, "The first."
Jesus *said to them, "Truly I say to you that the tax collectors and prostitutes will get into the kingdom of God before you.
For John came to you in the way of righteousness and you did not believe him; but the tax collectors and prostitutes did believe him; and you, seeing this, did not even feel remorse afterward so as to believe him." – Matthew 21:28-32 NASB
Who Are the Two Sons?
This is not just a story of a man and his two sons. It is a story about the nation of Israel – And us.
Promises
The people said they would obey and work God's will but didn't, just as the second son said he would go to the field to work, but never showed.
How often do we make a commitment to God only to fall back on it later?
If we are just going through the motions of being a Christian without any real effort then we are just like the son who didn't show up for work.
Pretense & Christianity
[easyazon_image align="left" height="160″ identifier="0718042220″ locale="US" src="https://makingchristknown.com/wp-content/uploads/2017/01/51P3GADj6AL.SL160.jpg" tag="bobpardphot-20″ width="105″]When we pretend that we are going to follow Christ but don't, we put ourselves in a dangerous situation. God knows what is truly in our hearts.
The lesson is not to just say we are going to do God's will. We have to really mean it!
Love in Christ
– Bob
If you would like to learn more about the love and life-changing experience of Jesus Christ, please take a moment to go here.